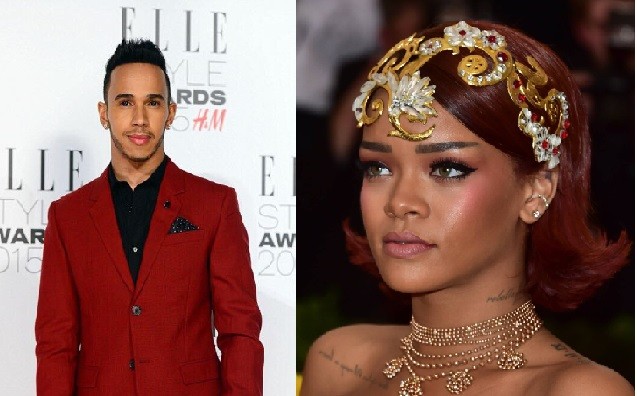 Rihanna has always managed to make headline with her active love life and wild parties. Latest reports say that the singer was treated to a special surprise with balloons and roses by her special someone, who may be none other than F1 world champion Lewis Hamilton.
The buzz is that RiRi is reportedly seeing the Formula1 racer who was in an on-and-off relationship with Nicole Scherzinger for many years.
But ever since Scherzinger and Hamilton broke up earlier this year, there have been a number of reports suggesting that the "Diamonds" singer and the racer could be dating.
The two are known to have attended many parties together and have sparked the rumours at various occasions.
After his split with Nicole, the racer flew down to America and attended the pre-Grammy party. He was spotted chilling out at Jay Z's annual Roc Nation Brunch in Beverly Hills, California, which was also graced by Rihanna.
And very recently, Hamilton attended RiRi's Met Gala after-party as well.
Now, OK! Magazine (via Star Magazine) has reported that for a long time sparks have been flying between the pair, who keep things spicy with flirty text messages.
"While at the Met Gala, an eyewitness said they were incredibly comfortable with each other, very touchy-feely," the report read.
According to the magazine's source, when the Barbadian beauty left her home with BFF Melissa Ford earlier this week, she was greeted with a bouquet of nearly 50 roses and a balloon that read: "I Love You."
The gifts came in a chauffeured limousine. "They were carried inside to the front desk, where her assistant then picked them up and brought them upstairs," the source added.
So, who sent balloons and roses to Rihanna at midnight? Is it really Lewis Hamilton?