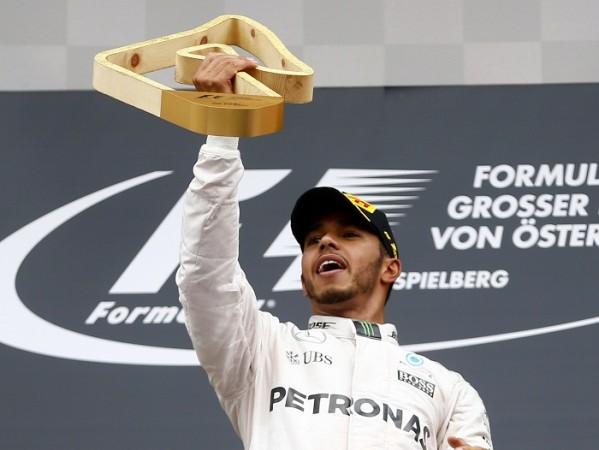 Racing incidents and Mercedes seem to go hand-in-hand in this Formula One season. After Nico Rosberg and Lewis Hamilton crashed out, after colliding with one another, during the Spanish Grand Prix in May, both drivers were once again involved in a collision in the final lap of the Austrian Grand Prix, which helped the British driver win the race on Sunday. Until then, it was Rosberg, who was leading the race, but a few dramatic final moments of the race saw the German finish fourth.
Both drivers went all out for a win in Lap 71. Hamilton attacked Rosberg on the outside of turn two, which led to contact between the two Mercedes drivers, leading to the German's front wing getting damaged. The situation could have been averted had Rosberg given sufficient room for Hamilton to pass.
The FIA stewards also deemed Rosberg responsible for the collision, and handed the drivers' championship leader a 10-second penalty. But, that did not have any impact on the final standings as he was 14 seconds ahead of the Red Bull driver, Daniel Ricciardo, who finished in fifth place. The German was also reprimanded for continuing the race in his damaged car, which was overtaken by Max Verstappen, who finished second, and Kimi Raikkonen (third).
The German was confident of a win, as he was initially leading in the last lap, but Rosberg was caught unawares when the defending champion Hamilton tried to overtake him. He was disappointed to have lost after coming so close to a hat-trick of wins in Austria.
"I'm gutted. That's sport sometimes, but unbelievable. I was sure to win, I lost in the last lap, pretty intense.We were battling, and I was struggling a bit with my brakes and tyres degrading, and that gave Lewis a chance," Formula One's official website quoted Rosberg as saying.
"Nevertheless I was confident I could defend accordingly as I had the inside line. I went a bit deep into the corner but that's OK, I dictate, but I was very surprised Lewis turned in. I'm frustrated about losing the win like that -- I was out front, felt great and was going to win the race."
With the action-packed final lap of the Austrian Grand Prix, which saw Hamilton emerge victorious, he has closed the gap on Rosberg, who leads the drivers' standings with 153 points compared to the Brit's 142. The defending champion has been brilliant of late, winning three of the last four F1 races.