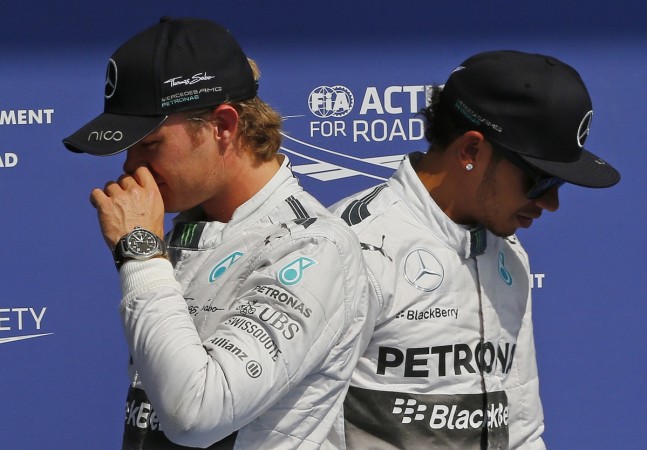 Nico Rosberg and Lewis Hamilton will remain in contention for the Formula 1 World Championship, Mercedes stated.
Teammates and title challengers Rosberg and Hamilton were embroiled in a collision at the Belgium Grand Prix on Sunday. Rosberg's car had made contact with Hamilton's vehicle and, due to this, Hamilton's car's left rear tyre experienced a puncture, which saw the Brit retire from the race.
It was during a meeting at the Mercedes headquarters in England that the decision to let Rosberg and Hamilton continue racing and try win the the Championship was reached.
The news came after Mercedes held discussions to sort out any disharmony that might have prevailed between the two after the collision.
Toto Wolff, executive director of Mercedes, and both racers were in attendance at this meeting. Rosberg took responsibility for his vehicle making contact with Hamilton's car and extended an apology.
"I have already expressed my regret about the incident but, after meeting with Toto, Paddy and Lewis today, I wish to go a step further and describe it as an error of judgement on my part. The number one rule for us as team-mates is that we must not collide but that is exactly what happened."
"For that error of judgement, I apologise to Lewis and the team. I also want to say sorry to the fans who were deprived of our battle for the lead in Belgium," Rosberg said in a statement, reported The Guardian.
Mercedes added in a statement that they have seen to it that disciplinary proceedings have been instituted against the two racers, according to the Formula 1 website.
"Suitable disciplinary measures have been taken for the incident and further contact between the two men would not be accepted," a Mercedes statement read.
Rosberg and Hamilton will continue to receive support but if there is another such instance in the near future, the racers will not have the team's backing, Mercedes put forth.
"Lewis and Nico understand and accept the team's number one rule: there must be no contact between the team's cars on track. It has been made clear that another such incident will not be tolerated. But Nico and Lewis are our drivers and we believe in them," the statement said.