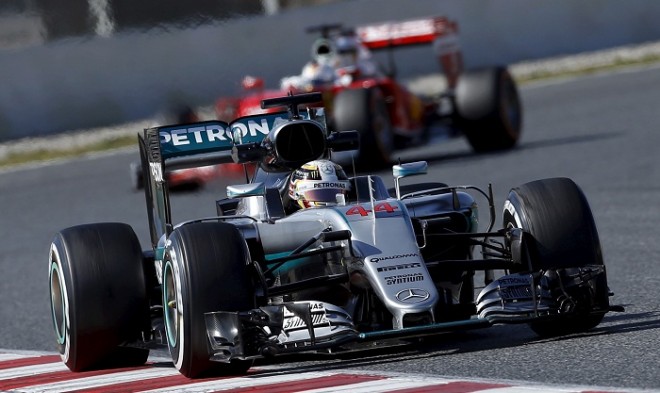 The 2016 Formula One season is just a few days away, with the Australia Grand Prix all set to take centre-stage this weekend. Defending F1 champion Lewis Hamilton is the favourite to clinch the drivers title this season as well, but the Mercedes driver believes he will face stiff competition from his teammate Nico Rosberg.
Rosberg provided a stiff challenge to Hamilton last season, as they finished first and second in the drivers' standings.
Hamilton might have won the title by 59 points, but Rosberg finished the season on a high, with some incredible racing in the last three races of the season -- in Mexico, Brazil and Abu Dhabi -- where he crossed the chequered flag first.
Rosberg's pace in the qualifying sessions were outstanding in the latter stages of last season, winning six consecutive pole positions. However, Rosberg needs to find a way to convert those pole positions into race wins.
If Rosberg comes up with such electrifying pace in the new season, an interesting battle is on the cards for F1 lovers, as Hamilton will also need to up the ante.
"My sole focus is again on winning the title but Nico also has grown, so I have to accept he is exceptionally fast and so I also have to lift my bar again. I don't know how - but that is my goal," mirror.co.uk quoted Hamilton as saying.
"It was good for him at the end of last year. I had good races. I did not do the bare minimum, but I did what I needed to do to finish the year after winning the championship."
Hamilton will be keen to start the F1 season like he did in 2015, where he won three out of the first four races. Another brilliant start will strengthen his position, and once he takes the lead in the drivers' standings, it is not going to be any easy for other racers to catch the champion.
Though Hamilton might have talked about Rosberg being his strongest rival, other F1 drivers, such as Sebastian Vettel, will be eager to push the two Mercedes men.
With Hamilton starting as favourite for the F1 title, there will be huge pressure on him, and he needs to be mentally prepared for the challenge that lies ahead as well.
"Now I am getting older it is harder to get into shape, it is harder to keep that mental edge. That is a massive challenge," Hamilton said.
"When I was a kid I was all energy. Now you are doing 20 push-ups and by number 12 you start to think: 'Oh my God...' It is getting harder and harder to fight your weaker self ."