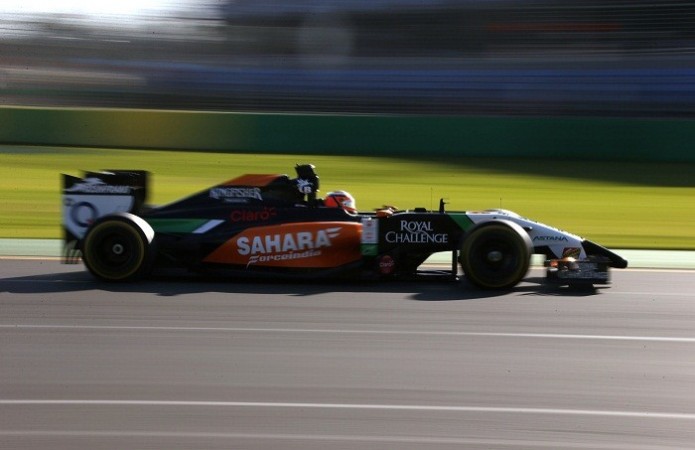 Standing fifth in the Constructors' table after the first two GPs of the season with German Nico Hulkenberg's 18 points and Mexican Sergio Perez's one point, Force India team boss Vijay Mallya is now looking for a podium finish in Sunday's Bahrain GP.
Hulkenburg finished sixth in Australia and fifth in Malaysia, and Mallya is now keen on breaking into the top positions.
"It's always nice to see a Sahara Force India in front," Mallya said. "You can't just find yourself leading a Grand Prix by accident. Things have got to be in the right place at the right time.
"We've still got some catching up to do if we want to be a regular podium contender. We've got our plans for that. We've had our best start to a season in our history, since the Jordan times, and despite only one car finishing in Malaysia we are sitting in fifth in the Championship. Let's hope we put on a strong show going forward."
The Bangalore-based business tycoon hopes for a strong double-points finish in Bahrain, which is hosting its first F1 night race. The circuit has already seen two preseason tests and Mallya seems positive about the atmosphere.
"I don't think there will be any surprises (in Bahrain)," Mallya stressed. "Hopefully we'll have a good race." Speaking of Hulkenberg's performances, Mallya was all praise for the 26-year-old. "He's got that huge competitive spirit in him and he's obviously hugely talented. In the wet, in the dry, whatever the tyre compound, he's there."
Hulkenberg, too, was happy with his car's performance and is now looking to work with the team to focus more on development.
"We've had two good races and have scored a lot of points already," the German said. "I think we have a strong foundation and we can now build on that. The car is good, but there are still areas that we need to focus and work on so we have to keep the development rate high."
Asked if the testing has encouraged the team to keep going on Sunday, Hulkenberg replied with a big "Yes", adding "but for the race we will drive at a very different time of day, when it gets cooler. I think it will be easier for the tyres and tyre management, which is good for us in the car. In terms of performance I expect something similar to Malaysia. I think the aim must be for us to qualify in the top ten again and score some more points."
(Edited by Vishnuprasad S Pillai)