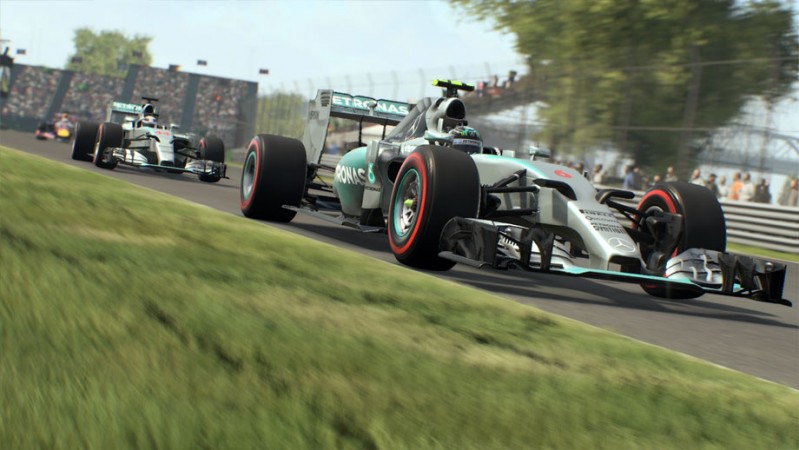 F1 2015, the racing video game from developers and publishers Codemasters, has received a new patch (version 1.06) for the PS3 version. It has promised the same for PC and Xbox One version sooner if not later.
The new patch will add updated car models and liveries to teams like Lotus F1 Team, McLaren Honda, Sahara Force India F1 Team and many others. We can also see various fixes and improvements added to the game.
It has removed the AI and assist restrictions, and has made D-Pad menu more responsive. The update will also adjust the performance of the teams and drivers during the season.
F1 2015 was released in July 2015 featuring a new 'broadcast presentation,' a new game engine, with new game modes like Championship Season, Pro Season, Online Practice Session. It is also the official video game for the 2015 FIA Formula One World Championship allowing to "race like a champion."
Below are the complete patch notes for F1 2015 (Codies blog):
Game
Added support for the Thrustmaster T150
Added a session list screen which is available via the Multiplayer menu. This screen will allow players to search for all public sessions and join the one they want to. Custom and Hopper sessions will be visible on this list.
Multiplayer fixes and improvements:

Fixed the players met section so it now updates correctly.
Added additional information to lobbies so players can see how much progress has been made in the current session.
Parc ferme rules are no longer incorrectly applied so players will not get their fuel locked to 100kg in qualifying or not be able to change their tyres at the start of a race if they qualified outside the top ten.
Fixed an issue that would cause a players car to always be ghosted during timed qualifying sessions.
Fixed framerate and lag spikes causing incorrect collisions.
Fixed a bug that meant connections with limited upload bandwidth would appear laggy while on track and eventually disconnect.
Disallowing Brake Assist will no longer also block ABS.
Fixed a bug which made the screen pulse black when spectating specific cars in specific circumstances.
Minor hopper improvements and changes
Removed the AI from all hoppers.
Removed the assist restrictions from the Hardcore hopper.
Made the countdown timer longer and prevented it from starting for a short time if there are not many players in the session to try to allow more people to join.
Changed the grid order to random from realistic. So now the players Mercedes cars will not always start on the front row.
Full practice is now available in Quick Race.
Added a Strict corner cutting rules option.
Corrected a problem with the corner cutting rules that could mean you get a penalty even if you run wide and lost time.
Removed the incorrect second DRS detection zone from the Mexico mini map. This was not present in the actual track data.
Corrected the number of laps for the Mexican Grand Prix to 71 laps.
The player is now correctly disqualified for not using both compounds in a dry weather race.
Improvements to AI behaviour in Qualifying:

AI will no longer all leave the garage at the same time.
AI will no longer use Prime tyres in Q2.
AI will always do two runs in Short Qualifying and Q3.
Made the D-Pad menu more responsive to use.
Fixed an issue that would sometimes cause OSD messages to remain on screen or to never display. This was mostly reported online but can be seen offline too.
Fixed an issue that would cause new tyres to be too cold when they're put on at a pit stop.
Fixed a problem that could cause unrealistic lap times in practice and qualifying.
Updated the tyres for Russia to Super Soft and Soft.