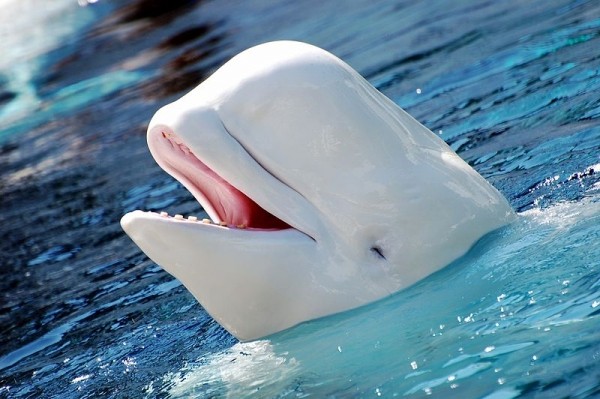 A rare white whale was spotted in eastern coast of Sydney, Australia on Tuesday 17 June . The albino with a humpback has been named "Migaloo" by researchers who have been following the animal's movements for some time .
The whale was seen swimming along the coast of Green Cape in New South Wales, Sydney during his yearly migration. This is the third year of a white whale being sighted.
Albino whale are rare to find and Migaloo is one among the handful of white humpback adults, according to Oskar Peterson from White Whale Research Center who runs a website that follows the sightings of white whales around the world.
"We have photos of a junior Migaloo from a few years ago, but we haven't seen him since so we don't know if he survived the South Ocean. But there is a 100% white whale we've seen photographic proof of in Norway, so Migaloo isn't quite as unique as we once thought." CNN News quoted Peterson as saying.
Migaloo was first seen in 1991 as an infant and researchers believe that he must be in his 20s now .
The mammal glows in the water like a fluorescent bulb, which is what makes looking at this animal for whale--watchers amazing , according to Peterson . Earlier Migaloo was the only one of his kind , later some whale watchers in 2011 discovered another all-white humpback which was nicknamed Migaloo Junior by marine scientists.
Migaloo Junior does not appear before spectators every year whereas Migaloo appears during the annual migration from the Antarctic to the site of breeding along the Great Barrier Reef.
"The helicopter crews are all out photographing him today. He's giving us all quite a parade this year ," Peterson added.
On Thursday, Migaloo crossed Cronulla in south Sydney. Whale-watchers are soon expected spot the mammal at Bondi Beach, according to Peterson. Pictures and videos of Migaloo sighting have been shared by spotters on micro-blogging sites.
According to experts, Male humpbacks can travel around 140 kilometers a day during their migration. Humpback whales are believed to survive for as long as 90 years in the wild.
Check out for the video of the rare white whale "Migaloo" here.