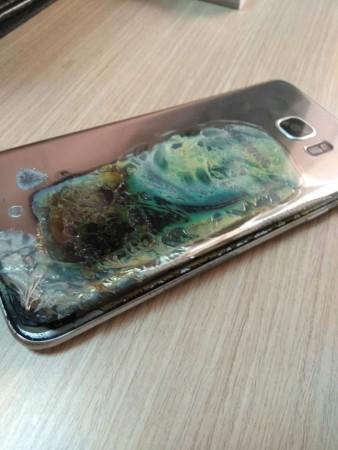 A woman from Long Island in the United States is suing Samsung after her Samsung Galaxy Note 9 supposedly burst into flames in her handbag. And now, a Redditor from Morocco has come up saying that their Galaxy S7 Edge froze and then exploded.
As indicated by the user (whose Reddit name is 'Rokhana') — they had the gadget in their back pocket and took it out to take a photograph. The phone at that point froze, died, and wouldn't turn on.
After the device was left on a kitchen counter it "spontaneously went up in flames" and additionally set a few towels ablaze.
As indicated by The Sun, Rokhana didn't get any help from their neighbourhood service center when they took the phone in.
The first Reddit post has since been updated to include that Samsung Morocco has called to apologise and instead offer a new Samsung Galaxy S9 as a replacement.
As indicated by the post, Rokhana was also asked to delete every social media post about the incident and stop giving further comment about it.
At the time of writing this story, the Reddit post was still up.
After Samsung had recalled the Note 7 in 2016, the South Korean multinational conglomerate had made significant changes to the device's design so that such common-explosion incidents do not occur in the future.
However, recent reports such as these state otherwise. While Samsung is going all out to promote its new Galaxy devices, it seems to be paying little heed over the satisfaction rate of their existing customers. An incident like a smartphone exploding can be traumatic, and in any case, "life-threatening".
The lawsuit by New York resident Diane Chung demands damages from Samsung, calling the phone "defective." She also asks Samsung to ban the sale of its Note 9 smartphones.
While Samsung may have its way of getting away with such lawsuits, such as paying heavy fines which it is very much capable of, it is still quite a fact that making defective smartphones that blow up is a loose thread in the company's production ethics, to which it should have a look.