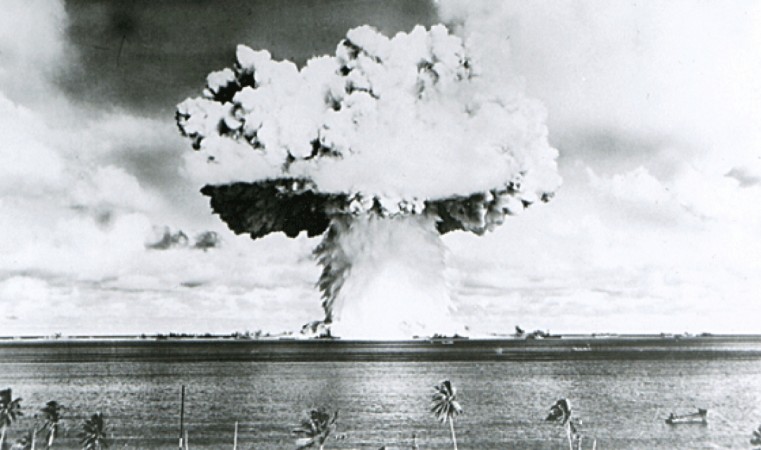 More than two decades after the United States decided to cut down its nuclear forces post the Cold War, some military strategists, scientists and congressional leaders have called for designing a new generation of hydrogen bombs.
The concern is genuine as the country has warheads that are around 27 years old (on an average), and thus, cannot be considered reliable. When it comes to defense, reliability is a major factor and if it is absent, alternatives are needed. Most importantly, provocative nuclear threats by Russia's President Vladimir Putin have increased fears and added pressure on the United States to consider not just designing new weapons, but also conducting underground tests for the first time since 1992, The Los Angeles Times reports.
"We should get rid of our existing warheads and develop a new warhead that we would test to detonation. We have the worst of all worlds: older weapons and large inventories that we are retaining because we are worried about their reliability," said John Hamre, the Deputy Secretary of Defense in Clinton's administration, who is now President of the Center for Strategic and International Studies.
Meanwhile, it appears that the incoming Republican-controlled Congress might be more tolerant of exploring new weapons. Chairman-elect of the House Armed Services Committee Rep. Mac Thornberry (R-Texas) said: "It seems like common sense to me if you're trying to keep an aging machine alive that's well past its design life, then you're treading on thin ice. Not to mention, we're spending more and more to keep these things going."
Thornberry also supported the idea for renewed testing. He said, "You don't know how a car performs unless you turn the key over. Why would we accept anything less from a weapon that provides the foundation for which all our national security is based on?"
A few of the key scientists and technocrats of the Cold War believe that the nation has become too confident of its nuclear deterrence without realizing that nuclear enterprise is in fact "rusting its way to disarmament".
The 25 years after the Cold War saw the United States significantly scale back its nuclear forces, reducing its stockpile from a massive 31,000 nuclear weapons in 1967 to 4,804 weapons at present. Russia has reportedly cut its nuclear stockpile to a similar level.
Despite never approving to the Comprehensive Nuclear-Test-Ban Treaty post the fall of the Soviet Union in the year 1991, the United States agreed to an international freeze on testing.
The condition in Pantex facility in Texas, where nuclear weapons are disassembled and repaired, has become so bad that workers are scared to even bring their lunches to work due to scores of rats and other rodents overrunning the place.
"They literally have to keep their lunch bags on a shelf that's head high so it won't get eaten. They find them on their computers, in the hallways. It's a continual problem," Thornberry said.
Also, the old buildings at the Y-12 National Security Complex in Oak Ridge, Tenn., are in an extremely fragile state. A concrete ceiling recently collapsed into a production area.
The Obama administration is looking to modernize the Energy Department complex and update weapons, which include a new type of warhead that cannibalizes components from older weapons. A budget of $60-billion for the plan has been set aside.
Don Hicks, who directed the Pentagon's strategic weapons research during the Reagan administration, believes that the nation needs to start from scratch. "We have so much enriched uranium and plutonium left from old weapons that we could use it properly for a new generation of weapons," NewsOK reports.