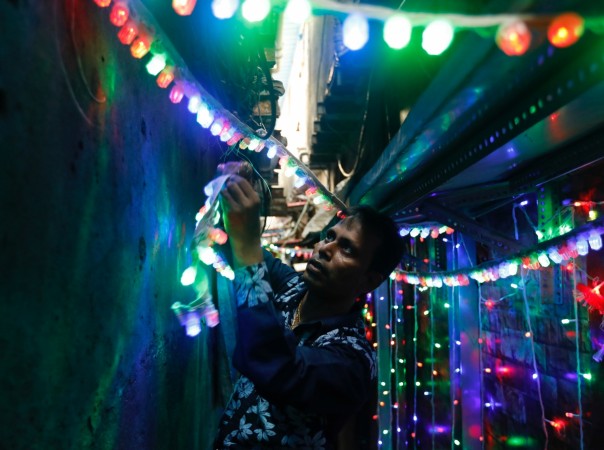 The city of Mumbai is the commercial capital of India with a massive and well-developed infrastructure and a bustling nightlife. It is home to the glitz and glamour of Bollywood, something that attracts thousands of tourists to the city each year, not just from within India but all over the world.
The city, which is known as a place that never sleeps, is a much-loved destination for various reasons, but the latest attraction has surprised many. Several tourists, especially from foreign countries have now been coming to the city just to experience life in Mumbai's slums.
It all began in the year 2015 when a street vendor Ravi Sansi took a tourist from Singapore to his home in Golibar Road in Khar (East). She is said to have instantly gotten along with his family and lived with them for quite a few days. "She slept in the same bed as my bhabhi, learned to cook and would wash her clothes sitting with my mother in the doorway," Sansi told the Times of India. "She cried when she left because she was so happy to have met me."
While this may sound like a one-off case, this experience seems to have opened an entirely different avenue for Sansi.
He now plans to start Mumbai's first "slum homestay" and he and his family plan to host tourists who may want to experience life in a slum. While the family has now bought a new home with amenities such as a new mattress, a flatscreen TV and even an air-conditioner for visitors' convenience, they will still be using the same toilets and bathrooms as the rest of the slum dwellers.
"We would be very happy if they eat with us," Sansi told TOI. However, if they want Sansi and his family are ready to "direct them to a nearby restaurant." Spending a night at this slum is going to set the visitors back by Rs 2,000.
This sure sounds like an exciting venture for Sansi, and while the tourist from Singapore was the first one to live with his family, the idea came from David Bijl, who is from the Netherlands.
Aiding Sansi in this venture, Bijl has started a Facebook page where he gives out not just the details of the stay but also puts up images of these dwellings so that visitors know the living conditions beforehand. While the images show dingy and cramped living spaces, the page also features images of children and families trying to capture the simple joys of their lives.
"There is beauty here as well and people are often happy," says Bijl. And while he may have the best interests at heart, he has been criticized by many for being "insensitive."
Meanwhile, Sansi's slum homestay may be a new concept, but the idea of slum tours has been around for a while and has often raised eyebrows. The tours have been questioned on several occasions and also became a topic of discussion when it was reported that the Duke and Duchess of Cambridge, Prince William and Kate Middleton would visit the slum during their India tour.
Often dubbed as "poverty tourism," the tour has been called insensitive and unethical numerous times and some activists have even said that these tours treat slum dwellers almost like animals in a zoo.
However, a report in the Telegraph UK begs to differ and says that these tours are, in fact, great and not insensitive in any way. The writer, who has visited the Dharavi slum in Mumbai, says that tours are given by local guides and profits mostly go to charities. And describing the slum the writer says: "Dharavi is just about the most energetic and kaleidoscopically productive place you will ever visit."