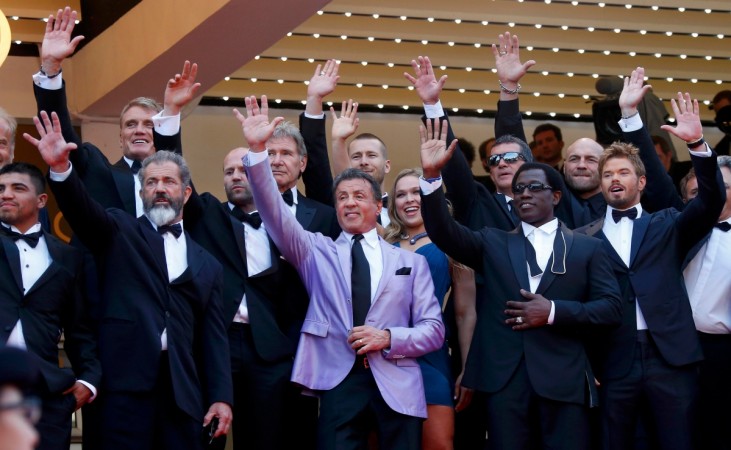 "Expendables 3" has been garnering good reviews from critics for its action sequence, but when it comes to rating the movie as a whole, it's a thumbs down from most of the top critics in the industry.
The third instalment in the franchise sees the return of most of the action heroes of the 80s -- Sylvester Stallone, Harrison Ford, Jet Li, Dolph Lundgren, Randy Couture, Terry Crews, Mel Gibson and Arnold Schwarzenegger among others.
In the third edition, Barney and his team come face-to-face with Conrad Stonebanks, who was previously believed to be dead. Stonebanks was one of the co-founder of The Expendables with Barney, but since then he has turned into a sadistic arms dealer whose sole aim is to end The Expendables.
But Barney has other plans. He recruits younger tech saavy men to fight old blood, and this gives rise to a number of action sequences liberally littered throughout the movie.
However, these action-filled scenes have not been able to save the movie, if the reviews are any indication. The movie has just garnered 34 percent on the Tomatometer, with the rating averaging 4.9 upon 10.
Out of the 140 reviews counted on Rotten Tomatoes, the movie review aggregator, "Expendables 3" has been deemed fresh only by 48 people. About 92 others have termed it rotten.
Orange County Register's Michael Sragow noted: "The series did reignite a few careers and bring forth one decent popcorn movie (The Expendables 2). Rather than artificially extend its life, maybe the time has come to say Rest in Peace."
Meanwhile, Craig Matheieson of the Sydney Morning Herald noted: "The third instalment, directed by young Australian filmmaker Patrick Hughes, is as creaky and rheumatic as some of its leads. What should be crazy, outlandish entertainment is instead banal and uninspiring."
"If they're expendable, why won't they die?" is what Henry Barnes of The Observer had to say.
A good number of critics also blamed the movie's screenplay and a parade of uninspired cameos as the contributing factor's for the movie's failure.
In the U.S, the movie, which released on Aug. 15, made a box office revenue of $19.9 million, as of Aug. 20.