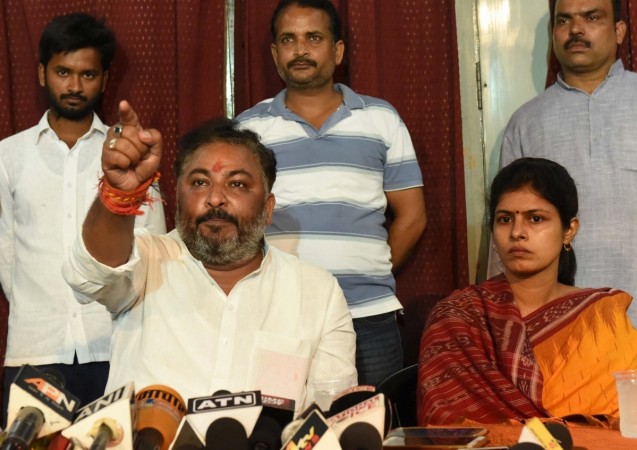 Dayashankar Singh, an expelled Bharatiya Janata Party leader from Uttar Pradesh, courted controversy again when he called Bahujan Samaj Party (BSP) chief Mayawati, a "dog." Singh, who was caught on camera making the remarks, later denied insulting her.
An non-bailable warrant had been issued against Singh in July after he compared her to a sex worker selling election tickets for money. He was arrested by the UP Special Task Force on July 29 after he was missing for nine days. Last month, after a local court granted him bail, he again said that Mayawati was selling election tickets.
"She is a greedy woman and is like a dog that chases speeding motorcycle in lanes, but steps back when the vehicle stops," Singh said in his latest jibe against her. He also accused Mayawati, her family and associates, of minting "crores through dubious deals". He also called her "deceitful" and "coward".
Singh later denied making the remarks, Times of India reported.
"It's Mayawati and her party members who call us dogs instead." he said. "Mayawati is corrupt to the core ," he said.
In August, he had demanded a CBI probe against Mayawati for selling tickets to the highest bidder.
I am firm on my statement that Mayawati sells tickets. At that time I used a word, over which I expressed regret the very same day," he had said after being released from jail. "I challenge Mayawati to select any unreserved seat and contest elections against my wife. The BSP leader will come to know the reality when she loses," he said.
Singh, who was the state vice president of BJP, was not only booked for equating Mayawati to a sex worker, he was also thrown out of the party. He hinted that the FIR against him was a revenge plot.
My party removed me from the post and expelled me, but it failed to satisfy Mayawati and an FIR was lodged against me," he had said. "I will file a PIL seeking a CBI probe. Mayawati is the 'mother' of corruption," he had said.