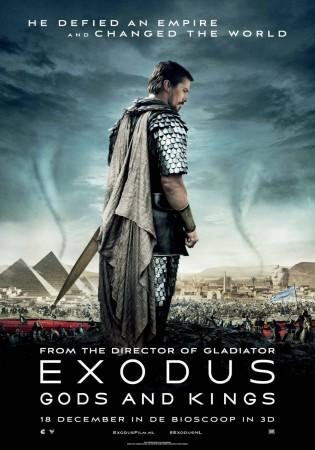 "Exodus: Gods and Kings" has been directed by Ridley Scott, who has a history of delivering blockbusters like "Gladiator", "Hannibal", "Prometheus", etc. The latest film is a biblical movie written by Steven Zaillian and stars Christian Bale and Joel Edgerton.
The story of "Exodus: Gods and Kings" is about a remarkable journey of Moses played by Christian Bale, who fights against the Egyptian Pharaoh Ramses (Joel Edgerton). How he takes on the emperor in a bid to free six lakh slaves and end the 400-year old slavery form the crux of the story.
The Hollywood flick, which will release in the US next week, has been released in different parts of the world this week. "Exodus: Gods and Kings" is getting mixed reviews from audience and critics. The technical aspects, performance of Christian Bale and the action portions have impressed them. Find below a couple of critics' reviews followed by live audience reviews.
The Independent:
"The film itself turns out to be a traditional, linear account of the Moses story that could have been taken from one of David Kossoff's bible stories."
SBS:
"The film is also a propulsive, respectful and thus relatively family-friendly telling of the conflict between Moses (Christian Bale) and Ramses (Joel Edgerton) that led to the former spearheading God's delivery of the chosen people out of Egypt and on their way to Canaan."
Hollywood Reporter:
"Scott did a great job reviving the Roman sand-and-sandals epic when he made the Oscar-winning Gladiator. This Egyptian saga is not quite in the same league, but it confirms the director's flair for widescreen imagery. Exodus has the added kick of 3D technology, and it has enough eye-popping set pieces to please adventure fans."
Variety:
"The film swiftly establishes the brotherly bond between Moses, a favored general in Seti's army, and Ramses, the proud pharaoh-to-be, their intimate yet rivalrous relationship sealed by the matching swords they wear into battle. Moses shows his mettle, and inadvertently fulfills a mysterious prophecy, by saving Ramses' life in a large-scale Egyptian attack on the Hittites, an excitingly staged collision of horses and chariots, lensed by d.p. Dariusz Wolski with a mix of soaring overhead shots and ground-level combat footage."
The Wrap:
"If you're going into 'Exodus: Gods and Kings'" thinking that director Ridley Scott is going to give the Moses story anything we didn't already get from Cecil B. DeMille in two versions of 'The Ten Commandments,' prepare to be disappointed."
Below, you can also read live Audience response to the film on Twitter:
Jonathan_bale
Loved the film, Christian Bale's performance in inspiring
Federico Jusid
Grateful for this wonderful journey collaborating with Alberto Iglesias, such an inspirational artist #Exodus
Miss Malini
Halfway through #Exodus at #StarMoviesSecretScreeing and am even more fascinated by Egypt now. @StarMoviesIndia