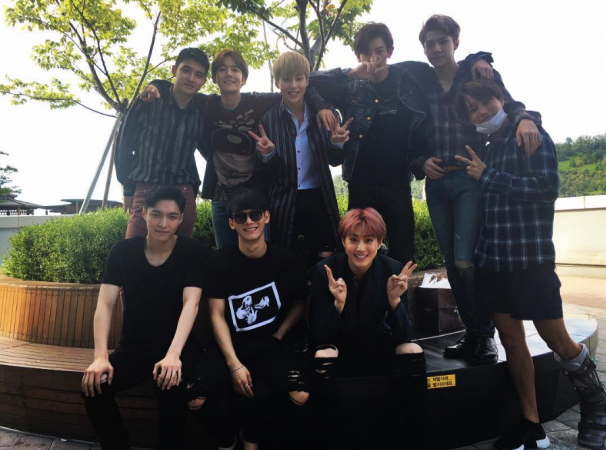 SM Entertainment's K-Pop boy band EXO is set to rule the stage of "You Hee-yeol's Sketchbook" on Tuesday, 9 June, with popular songs of the recently released "Love Me Right" album. Readers can watch the performance here.
The nine-member group, including Suho, Baekhyun, Chanyeol, DO, Kai, Sehun, Xiumin, Lay and Chen, will be making their debut on KBS' music programme and it is expected to create some waves in the industry, according to Soompi.
As part of their promotional activities for the newly released repackaged album, "Love Me Right", EXO members participated in several Korean music programmes like MBC's "Music Core", KBS' "Music Bank" and Mnet's "M!Countdown".
Although they failed to bag top position in any of the shows, the four new songs of their album, including title track "Love Me Right", "First Love", "Tender Love" and "Promise", are listed in top 10 positions by multiple online music charts of Korea. The album also set new records in terms of sales by crossing the one million mark within a few hours of its release.
Meanwhile, EXO fans were furious at MNet for deleting "M!Countdown" from their YouTube channel. They revealed that the clip had over 7,00,000 views and after the cable network removed it and uploaded a high quality video, the viewership dropped to 6,000. EXO Ls believe that it will affect the overall marks scored by the group because 10% of the total scores are taken from the views.
The furious messages from the followers ranged from "Don't blame us for hating Mnet, this is nothing but pure sabotage tactics. Again, EXO don't deserves this. Fear this fandom's wrath" to "please help spread this! EXO deserves to be treated fairly and what mnet did was unfair."