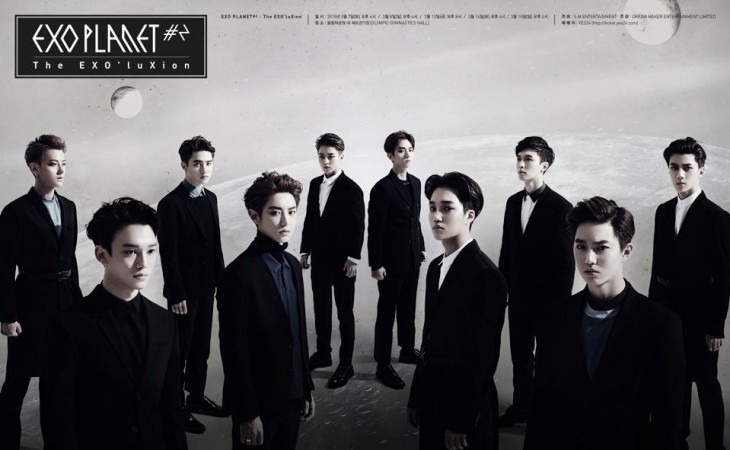 Chinese South Korean boy band EXO released their second studio album "EXODUS" on Monday, 30 March, and the group will begin their promotional activities on Thursday, 2 April.
Before the release of the album, SM Entertainment held a press conference at SMTOWN@coexartium Theater in Gangnam district, Seoul, which was attended by all the members except Lay, who is currently in China filming his upcoming movie.
Although the 23-year-old did not physically appear, he joined the group through a video call and apologised for his absence. "I'm really sorry, I really wanted to see everybody. I miss the members too. We will show a perfect image for this comeback. Please anticipate it," Soompi quoted him.
Meanwhile, EXO leader Suho stated that they never thought about the sales figures while making the album, "We can't really believe it ourselves, that even in this online generation, for our physical albums to sell so well was surprising to us as well." he said, according to Korea Herald.
Suho also revealed that their fans may get to watch a "brighter and more evolved" side of each member through the album. "While making this album, the only thing on our minds was how to produce something with which we can mutually relate to our fans and just create something that they would be able to enjoy," he explained.
"It's just the 10 of us now, so it's the start of a new path for us. But I think one of the biggest changes for us in the past year is how much we have improved in terms of our musical abilities ― each and every one of us are able to show a lot more range. Through this new album, I think you will be able to see our growth."
The much awaited album with 10 songs, including the title track "Call Me Baby", in 20 different versions is EXO's first work after the exit of Kris (Wu Yifan) and Luhan.