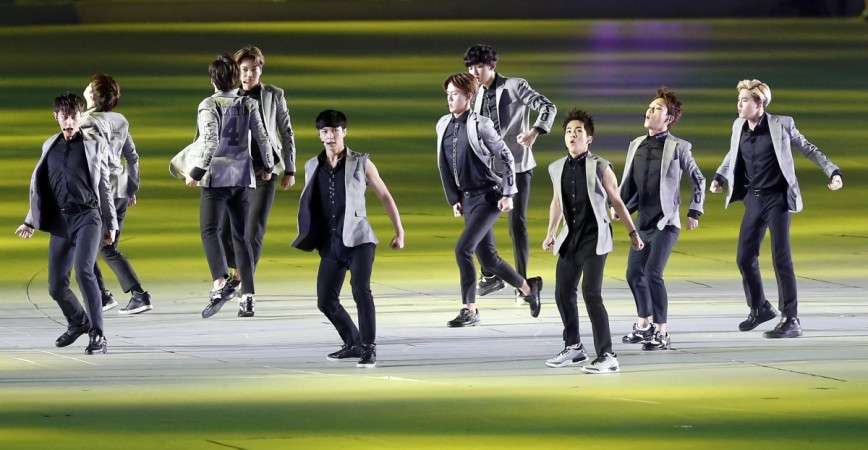 As members of EXO are gearing up for their imminent comeback, the band's leader Suho revealed how he truly feels about sharing the band's new music with fans. In a personal broadcast held on Monday, June 5 on V Live+, Naver's streaming service; the EXO leader said he's nervous about public's perception of their music.
Suho, aka Kim Jun-myeon, said that the mood in their camp is one of anxiety because the band could be criticised for over-stepping their artistic capabilities or could be bashed for presenting music that's not new and exciting enough.
He added that one of the main challenges of being a performance artiste is to present something that's different and according to the "Call me Baby" singer, achieving this goal makes him afraid, Soompi reported.
So far, fans have given favourable reviews for the teasers of their two songs, "Lucky One" and "Monster." In fact, both songs, heavy with bass and strong vocals, are dark, dystopian and slightly different from what EXO usually does.
The band's upcoming album, "EX'ACT" is their full-length album in a year. The band's comeback will mark the first time all the members of EXO have gotten together after a long period.
While Suho, 25, seemed anxious about the band's comeback album, his band member Chanyeol dived headlong into promoting EXO's new album. During his own personal broadcast, the singer made fans privy to some of the songs he composed.
Apart from this, he even did an impromptu production of a song based on the lyrics fans sent him. The "Growl" singer, who has joined by Beatburger's MQ, got to work as soon as suggestions started pouring in, according to another article on Soompi.
The EXO member later uploaded the track on his Instagram account and titled it, "Moon."
EXO's upcoming album will be released at 12 a.m. KST on Thursday, June 9. The band will be part of a showcase a day prior, on Wednesday, June 8.