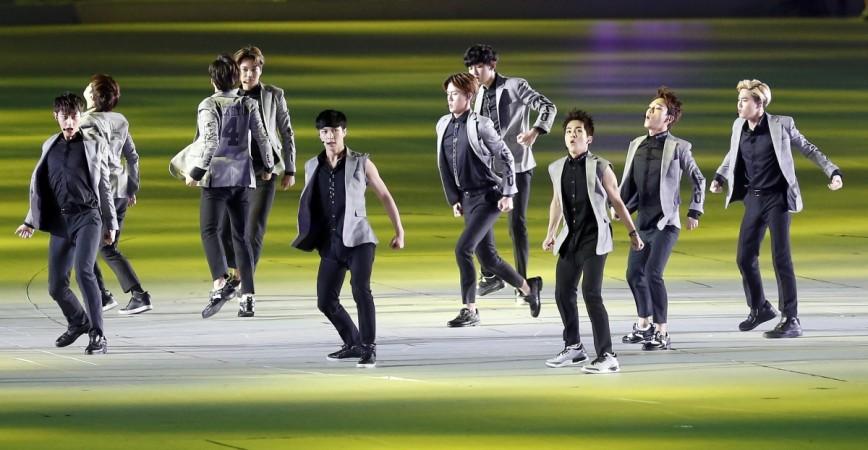 EXO's appearance on the recently aired episode of KBS's "Music Bank" was memorable for more than one reason. The Chinese-Korean pop band not only managed to establish their popularity, but touched their fans' hearts in a rather sentimental speech. And if there's one person the band's devoted fandom, EXO-L, can't thank enough, it is the band's leader, Suho.
Suho, on winning Music Bank's K-Chart for the fourth week of August, thanked everyone responsible for making the band's music a success. He said, "We thank everyone at 'Music Bank,' as well as our teacher Lee Soo Man, our SM family, our staff, and the family members of EXO. We'd also like to thank our managers, who work just as hard as EXO."
In addition to this, he gave his thanks to his fans, EXO-L, who were not treated well earlier by MBC's management staff. Allkpop quoted Suho, 25, as saying, "To our EXO-L, even though it looks like oppas don't know what's going on, we see, we hear, and we know, so we want you to know that. Our fans, we thank you and love you."
The K-pop star also organised a food truck and gave out free food to EXO-Ls. As soon as Suho acknowledged his fans' devotion and support, a stream of emotional messages began to appear across various social media platforms. On Twitter, fans of the "Lotto" singer commented on how loved they felt and several of them made a beeline for a portion of cold buckwheat noodles and raisin tea.
A few days ago, several fans of EXO were not treated well by MBC's staff during the programme, "Star Show 360." According to several reports, they were made to wait in queue for 20 hours. Members of EXO-L made their frustration known, but Suho's sweet gesture seems to have softened tempers.