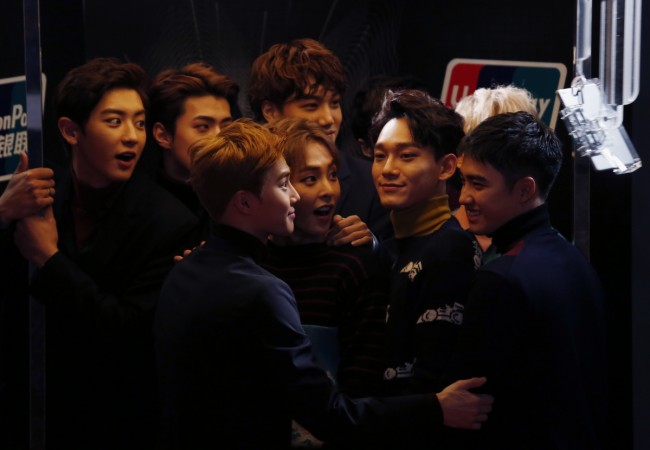 EXO members have been hit with a series of injuries of late. After Kai, band member Park Chanyeol seems to have injured his hand during SM Town's recent trip to Hawaii. In the latest set of photos, the 23-year-old singer was spotted with a cast around his hand.
Chanyeol, who arrived at Incheon International Airport on Thursday, Sept. 1 along with other SM Entertainment artistes, seemed rather quiet and in pain as he made his way out of the terminal. The singer's injured hand stuck out of his jacket but he didn't divulge any information to the paparazzi present at the airport.
So far, SM Entertainment hasn't released an official statement regarding Chanyeol's injury and it isn't yet clear how serious it is. Several media reports speculated that Chanyeol's hand injury is pretty recent as the singer doesn't have a cast in most of his Instagram pictures. However, we wonder if he will be part of the promotions for his band's repackaged album, "Lotto."
Earlier, the entertainment company revealed that Kai aka Kim Jong-in wouldn't be able to promote EXO's third repackaged album due to his ankle ligament injury. Krystal Jung's boyfriend was largely absent from the band's third solo concert, "EXO PLANET #3 – The EXO'rDIUM" as well. But Chanyeol's absence from the Lotto promotions isn't yet known.
While the SM Entertainment artiste is no doubt focused on recuperating from his injury, the band's fans expressed their concern for Chanyeol. On Twitter, many hoped Chanyeol would recover soon.
Meanwhile, the band is preparing for the launch of their photo book, "Dear Happiness" on Tuesday, Sept. 20. According to Soompi, the book will include pictures from the band's photo shoot in Fiji islands. The outlet also reported that the band members will hold a series of photo exhibitions at SMTOWN Coex Artium and the Myungdong Lotte Young Plaza as part of the photo book's promotions.