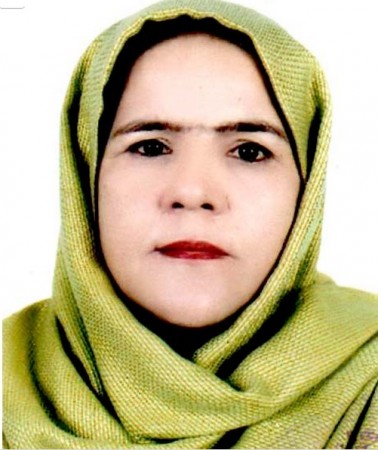 Parliamentarians of her own gender failed Anisa Rasooli, as she was deprived of the chance of becoming Afghanistan's first ever female Supreme Court judge after the country's lower house -- Wolesi Jirga -- quashed the proposal for her appointment following a voting.
Rasooli fell nine votes short of making history, after getting 88 votes in her favour against the required 97 on Wednesday in the Afghan Parliament. The outcome was shocking not just to Rasooli, but the entire world that expected her to be a part of the orthodox country's top judicial system.
"I don't know the reason for my rejection. I did not anticipate that this would happen to me in the Parliament as I had support during my campaign," Rasooli told IBTimes India through an email.
IBTimes had contacted Rasooli over the phone following Wednesday's verdict, but a spokesperson asked for correspondence through email.
Rasooli's only explanation for the unfortunate turn of events, after being nominated by Afghan President Ashraf Ghani himself, is that the MPs did not want to see a woman as a Supreme Court judge.
"(The) parliament members were not glad about a woman candidate in the Supreme Court... as Afghanistan is surrounded by Mulas (clerics) and fundamental people," Rasooli said.
Rasooli's assumption might not be wrong. Many activists and locals have blamed the Afghan MPs' misogyny for stopping Rasooli from becoming a Supreme Court judge.
"The Afghan parliament is full of Mujahideen MPs who think that a woman cannot be a judge in the Supreme court according to sharia law," a local in Kabul, who did not wish to be named, told IBTimes India.
Fawzia Koofi, an MP and women's rights activist, also blamed misogyny and sexism for Wednesday's verdict.
"In a parliament mostly dominated by men with misogynistic mentalities and tribal and religious beliefs, there is already a hint that women will never survive in there," Koofi said in a post that she shared on her official Facebook page.
Female MPs abstain from voting
But what has really shocked women rights activists in Afghanistan is not the predictable male verdict, but the fact that the women MPs themselves chose to turn their backs on Rasooli.
Of the 69 women MPs in Afghanistan's parliament, 21 remained absent during the voting on Wednesday.
Wazhma Frogh Zulfiqar, a woman's rights activist in Afghanistan who also lobbied for Rasooli to become a Supreme Court judge, told IBTimes India that "women failed us once again".
"I lobbied a lot for her (Rasooli) with MPs and actually more with male MPs because my understanding was that women would support her anyways. She was well qualified and would be a useful part of the judiciary's highest body. But yes, the women failed us once again. We forgot that it was the same women MPs who were responsible for the chaos and the near rejection of Elimination of Violence against Women Law in 2003," Wazhma said through email.
Wazhma said that 21 female MPs remaining absent for the voting was "planned", but she also put the blame on the other women members of the Afghan parliament.
"21 female MPs were absent and that was planned. We have 69 women in parliament and they did not do any organised lobby inside the parliament but actually worked against her," she said.
"It is because the women in parliament mostly came under the name of warlords and men in power who could not come directly themselves but sent women as their proxies. Sometimes our female MPs act worse than men about women's rights, and this is another example," Wazhma said.
MPs justify their decision
Some MPs have reportedly chosen to justify the rejection citing sharia law.
Afghan MP Qazi Nazeer Hanafi had said that since menstruating women are not allowed to touch the Quran, a woman cannot be made a Supreme Court judge as she would be required to touch the holy book everyday, The Guardian reported.
Wazhma, however, shot down that logic.
"Anisa and many other women serve as judges already, as the head of family courts who decide on divorce and child custody. We have a woman heading the juvenile court that decided on children crimes. These are the direct decision makers of a case, and when all decisions are made on a case, the last stage comes to the Supreme Court. So if we have women deciding on divorce and marriage in the family court, why not in the trade laws within the Supreme Court," Wazhma questioned.
Rasooli had herself told The Guardian that "there was nothing under the sharia that prevents her from becoming a Supreme Court judge".
Other possible reasons
Some Kabul-based journalists have said there could be other reasons for Rasooli not winning the votes.
A local journalist told IBTimes that Rasooli had apparently read some verses of the Quran incorrectly in the Parliament, which had angered the MPs.
Rasooli, however, called the reports "completely wrong".
Whatever the reason for the rejection of a woman from becoming the Supreme Court judge, the parliament's decision sends a bleak signal for women in the country, who have faced severe suppression under the Taliban for years before the group was toppled.
And it puts forth the question - will Afghanistan ever get a female Supreme Court judge?
However, Wazhma remains positive.
"As someone who envisions to become the Chief Justice one day, I am very optimistic that women will eventually get into the Supreme Court," she said.