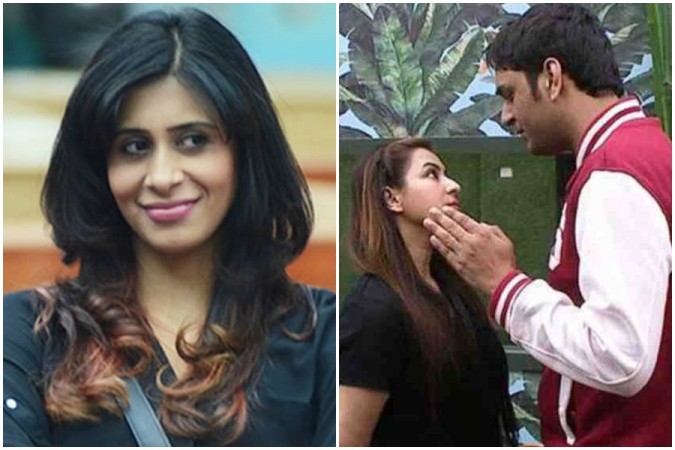 It has been a blissful year of togetherness for TV couple Kishwer Merchant and Suyyash Rai who tied the knot on December 16 last year. The madly-in-love couple defy the popular saying that "relationships of couples on reality shows do not work."
And since it is "Sukish Ki Shaadi Ki first anniversary, Kishwer Merchant, in an exclusive conversation with International Business Times India, shared some anecdotes from her love of life Suyyash and marriage, and her views about Bigg Boss 11 contestants.
Tell us how are you planning to celebrate your wedding anniversary? Are you expecting any surprise from Suyyash?
I am not celebrating since I am shooting today. I have no idea what Suyyash would be planning for me. I will know once I reach home. Even Suyyash is not home today, he is shooting. So let's see. I don't know my evening. I am not keeping my hopes high though (giggles).
Describe the year of SuKish's togetherness.
It has been very very good. Ek saal kaise chala gaya pata hi nahi chala actually. The time went out really fast. And we both were busy working. Suyyash is doing well with his music with what his passion is. So in this year, he has really progressed with that. And that is what makes us happy.
One thing that you would like to change about Suyyash.
I think he is a little careless. Like if he is shooting in the morning, he would not keep an alarm properly and sleep and then wake up late and all of that. So that is something I would like to change about him.
What do you like or dislike about Suyyash.
Ehh... There is nothing that I dislike about him because I like him and love him so there's nothing I dislike about him. I like everything about Suyyash. I think he is a fantastic person, a great human being, a husband, a son. He is a complete package. He is superb. And he is very hardworking and very passionate about his work.
One thing that you think Suyyash likes or dislikes about you.
I think Suyyash dislikes my anger because I get snapped very easily that is something that I know about myself and apart from that, he is likes everything about me (laughs).
The most romantic thing that Suyyash had done for you till date?
I think the most romantic thing was when he had taken me to Amritsar because I really wanted to go there for the longest time. So taking me there was like a dream come true for me. It was something very impromptu.
You have been one of the strongest contestants in Bigg Boss 9, who do you think is the strongest in Bigg Boss 11 and why?
Going by the mental strength and patience, I think Shilpa Shinde is the strongest contestant in the house. And if you talk about smartness, it is definitely Vikas Gupta. I really love these two characters because we have actually seen their graph in the entire show. From how they started and to where they have reached on the show is amazing.
Who do you think should win Bigg Boss 11 and why?
I have a feeling that it would be very very tough between Vikas and Shilpa. I thought it would be Hiten Tejwani but there are rumours that he is going out this week which I am not sure about. But if that happens, then I think Vikas and Shilpa should win Bigg Boss 11. And I really kind of liking Luv Tyagi for some reason. He has become much better than what he used to be earlier. So let's see.
And what about Hina Khan?
Hina is complicated in her own self. She only knows what she is doing in the show. So I don't think the viewers know it either.
How do you see Salman khan as a host? Do you think he is biased?
Salman Khan is fantastic. If he wouldn't have been doing the show, I don't think the show would've got so much TRP and viewership that it has been getting now.
And I don't think he is biased towards any of the contestants. You don't understand in between the lines what he's trying to say actually. So people think that Salman is biased. Every Saturday, he tries to send a message across to you indirectly. If you get what he is trying to say then you would change your ways and you would become a better person. But if you don't understand you would continue doing the same thing. So I don't think he is biased at all.
Hina once mentioned that Salman is biased on the show?
Yeah, even Arshi Khan was saying after that Salman was biased towards Shilpa. But Shilpa actually does nothing. I don't know why she keeps bothering her everytime. And what is there to be biased towards her? Viewers are watching it what is happening inside the house. It doesn't make him biased if they say he is biased.
Hina has been commenting on lot of TV actors inside the house.
I think she has forgotten there are cameras inside because the way she talks, the things that she does in the house makes me feel like. Or maybe she is just pretending that there's no camera in the house because talking like that about her industry colleagues and taking names is slightly not happening.
She even spoke about your infamous act with Rishabh Sinha on the show.
Yeah, she also said things about me but that is something which has happened two years ago. A lot has been changed after the incident and I have already said sorry to the people. If you want to hide your flaws by raising someone else's incident then fine, I have no issues with that. I have said sorry to Rishabh not just once but a lot of times and he has forgiven me and forgotten what happened. If two people have sorted out their differences but people want to keep bucking in, then it's fine with me.
Does it affect you when Hina fans attack you on social media whenever you say something against her
No, it doesn't bother me at all. Everybody has rights to say whatever they want and if tweeting about something, that is my opinion, my profile, you can unfollow me or don't tweet on my profile if you don't like my views.
What is the first thing you would do if you get a chance to enter into the Bigg boss 11 house for a day.
I think I would probably go and hug Shilpa for the way she is. She is a very very strong woman. And I really feel lots of shades of her are in me as well or my shades in her as a contestant. So I would definitely go and hug her.