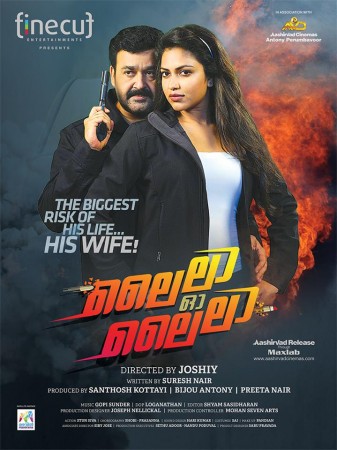 Here is a reason for Mohanlal–Amala Paul fans to celebrate as the makers of the movie, 'Lailaa O Lailaa', revealed that the flick will be released soon. Sources close to the movie have also confirmed that the trailer of the movie is ready and will be released on "Vishu" Day, 15 April, and the movie would release soon after.
"The post production work of the 'Lailaa O Lailaa' is almost done and we are now ready with the trailer. The 90 second trailer will be released on 15 April for 'Vishu'. With regard to film's release, we are zeroing to a date after 30 April in India and in overseas, the movie will hit screens a week later," said Santhosh Kottayi, co producer of "Lailaa O Lailaa", to IBTimes, India.
The producer further added that the movie would be a treat for viewers and the major highlight of the flick is the script written by Suresh Nair.
"The major highlight of the movie is the script written by Suresh Nair who has penned many Bollywood movies like 'Jhankaar Beats', 'Namstey London', 'Shootout at Lokhandwala', 'Sing is King', 'London Dreams', 'Kahaani' and 'Bang Bang' and another reason what makes the movie special is hit maker Joshiy sir. 'Lailaa O Lailaa' is large scale movie and the script demanded someone like Joshiy sir, probably the only person who can pull off a movie like this in Malayalam cinema currently, " added Santhosh.
Talking about the music of the film, he said that Gopi Sundar has composed five songs of the movie which are expected to be chartbusters.
"Lailaa O Lailaa", shot extensively in Kochi, Bangalore and Bellary, is a romantic thriller. It also features Sathyaraj, Ramya Nambeeshan, Kalakalyani, Ashvin Mathew and Joy Mathew.
"Lailaa O Lailaa" has been bankrolled by Santhosh Kottayi, Bijou Antony and Preetha Nair under the banner of Fine Cut Enterainments.