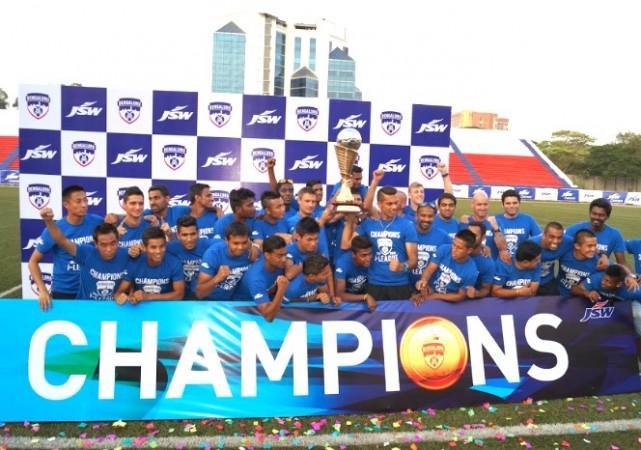 Bengaluru FC striker Sean Rooney has hailed Ashley Westwood's influence as the club's head coach. The former Manchester United youth academy graduate joined the newly formed I-League club as they kick-start their first season.
The Australian striker is one of four overseas players to join the JSW Group owned club, with John Johnston, Curtis Osano and Johnny Menyongar being the other three. Rooney completed his switch to Bangalore and signed a one-year contract with the I-League side.
"Ashley's addition as the coach is very important to the club. He treats everyone the same and a very professional coach on and off the field. The players can learn a lot from his experience," Rooney told IBTimes.
The 24-year-old was nicknamed "Aussie Wayne Rooney" by his former Blacktown City Demons keeper Ivan Necevski. However, Bengaluru frontman was quick to ward off those comparisons made by the Sydney FC keeper.
Meanwhile, Sean went on to admit that he idolises United star. The England international is one his favourite players in the world football.
"I don't think there is any comparison there. I just laugh about it. He's Wayne Rooney and Sean Rooney. He's one of the best strikers in the world and I idolise him and I look up to him as a player," he said.
"The team work and effort he puts in without the ball makes him a solid player," said the Australian striker adding, "Rooney is one of my favourite players in the world."
Sean had a successful season with the Demons last term, where he found the back of the net 14 times in 19 appearances. The striker hopes to continue his goal-scoring form for the I-League side as he targets over 10 goals for Westwood's side.
"It's just for me to perform on the field. The club's doing great and they have done everything on their side and it is my time to return the favour. I want to hit double digits and do well as goals will be coming if we play good brand of football. Personally, I had a good season last term and I hope to bring it to India," Sean explained.
The former Australian U20 international has already featured with I-League side Salgaocar FC in 2012, where he experienced highs and lows during his term with the Goan side. He has expressed his joy after completing his move to Bengaluru and is urged to prove his worth for the newly formed I-League club.
"It's good to be back in India. The first time I came here I had a good experience. I had good sides and bad sides and I'm glad to be back. The [Bengaluru] project seems to have everything and have a good setup. Hopefully we could start the season strong," the striker concluded.