Angad Bedi is one actor in the Hindi film industry who paved his own way to success and fame after his salad days. After appearing in back-to-back hits — films Pink and Dear Zindagi, and web series Inside Edge — the actor showcased his acting prowess in Salman Khan's Tiger Zinda Hai, which has now become the highest-grossing Bollywood movie of 2017.
In an exclusive conversation with International Business Times, India, Angad spoke at length about the success of Tiger Zinda Hai, his upcoming film Soorma and how Bikramjeet Singh's role was challenging for him, the next season of Inside Edge and dating Neha Dhupia.
Tiger Zinda Hai crossed the Rs 250-crore mark in just 10 days. How does it feels to be a part of a commercially successful movie?
I really very happy that Tiger Zinda Hai has become one of the biggest films of 2017. And I hope it fetches big numbers in the days to come. It's a YRF sequel with a totally different story and a complete action film.
Director Ali Abbas Zafar has taken each character to a different journey. Three people have got introduced in this film as well. One of them is me where I play an explosive expert who is highly trained and skilled in gunfights and combat.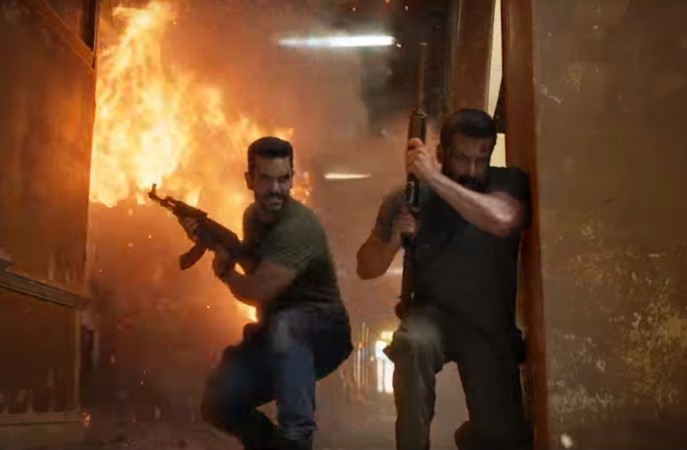 The year 2016 was a complete game-changer for me with Pink and Dear Zindagi. Then my 2017 started off on a good note with Inside Edge, which turned out to be a big hit and concluded with Tiger Zinda Hai. I hope 2018 also brings great fortune for me.
My upcoming film Soorma, directed by Shaad Ali, will be releasing and I hope to complete shooting for one more film as I am trying to target two releases each year.
Now the second season of Inside Egde will also start rolling this year sometime in March. The series will pick up the breadcrumbs it left behind where my character Arvind Vashishth's journey will be traced.
The makers have green-lit the project and are locking in 10 episodes and, then we will start shooting as per plan.
How is your character evolving in Inside Edge?
It will definitely evolve for the better because he is the only positive character in the first part. Let's see what's been written in the Arvind Vashishth graph. How is he going to come back? What will be his strategy? I have not read anything on Arvind lately, but next week I shall.
Viewers loved your character in Tiger Zinda Hai even though it is mainly a Salman Khan film.
It's a heroic character in the film. He is the second-in-command in Tiger's team. He's got Tiger's back all the time. He has very good moments with Tiger.
My character Namit Khanna has got a kind of heroism in him that suits him well and I am very glad that Ali gave me this part to play in the film.
Firstly you get a chance to step into the market world of Salman Khan and secondly you get a heroic character to play alongside him: That becomes quite a big thing.
Your one-liner "Sat Sri Akal" has also become quite popular among moviegoers.
That was actually Salman bhai's improvisation. The credit goes competely to Salman bhai. He spontaneously thought of this line when we were shooting for the scene and said: "I will say this line to you - 'Upar wala sar dekh ke sardari deta hai jo tumhe mili hai. Don't let yourself down'."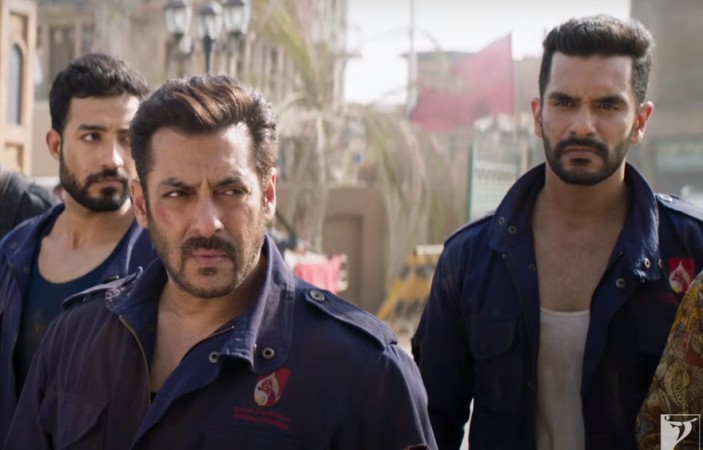 And then he suggested that I reply with: "Aunga to sath aunga warna Sat Sri Akal." And I am happy that this particular line became so popular with viewers. So it was a good thing.
Even producer Atul Kasbekar has lauded your performance in the film.
He has become a popular producer now with two back-to-back hits like Neerja and Tumhari Sulu. And I hope he signs me for his upcoming projects and I get a chance to work with him in the near future.
We have been good friends for years now. I would also hope to get a chance to work with Sajid Nadiadwala and Ramesh Taurani. I just feel that if I can target different producers and different kind of films, my career will grow eventually.
These are one of the few people in the industry I would love to be associated with who are putting together very good projects, because I feel it is very important for an actor to work with different producers and makers.
If one producer gives you a chance, it forms a circle of opportunities in this small world of entertainment for you. The industry works around this circle.
So what things would you like suggest to aspiring actors who wish to make it big in Bollywood?
It's all about the luck factor. You have to be ready before you get an opportunity. It doesn't work the other way around. I feel people ovten wait and say "this guy got this film and I didn't." Each and every maker has a lot of options to cast an actor in a film. You should be able to put yourself in front of producers and makers say "yes I can do this." The rest is all about luck factor.
Sometimes when you get briefed about a character, if you fit the bill then its fine, if you don't then obviously it was meant for somebody else. Be it experimenting with looks or doing action sequences or dance steps, you should be prepared for every circumstance that comes before you.
You just have to get yourself out there and approach the right casting directors. Today the entire Hindi film industry runs through casting directors. Mukesh Chhabra, Shaano Sharma, Abhishek Banerjee, Anmol Ahuja, Nandini Shrikent, Shruti Mahajan — these are the people youngsters should go and meet since they are the ones who will try and test you while casting you in a film.
So you just have to be optimistic and keep doing your work. The industry is open to so many new talents. It's not like that outsiders don't get a chance to work with big producers or big production banners. Sometimes it takes time, but with time you get acceptance as well. If you fit, then you will get the part.
How did you approach people when you started you career as an actor?
When I started off my career in acting, I went through these very casting directors. You have to keep on being associated with good projects — be it big or small. My aim has always been to be associated with performance-oriented parts, and then I would also like to be a part of a commercial film with a good story like Tiger Zinda Hai. I feel you should work both ways.
Take filmmaker Rajkumar Hirani for an example. We has made a lot of commercial films like Munna the Bhai films and 3 Idiots — which had a very good story to tell. And the same thing goes for filmmakers like Ali Abbas Zafar and Shoojit Sircar. Nowadays people are interested more in storytelling. So my aim is to be a part of good stories.
You will next be seen in Sandeep Singh's biopic titled Soorma. Tell us how you prepared for your portrayal to be more realistic and authentic.
Obviously, Soorma is based on the life of Sandeep Singh, but the story revolves around the lives of brothers Sandeep and Bikramjeet Singh. The film has been written in such a way that the game of hockey is being kept more as a backdrop while the narrative focuses more on the emotional family drama.
I, along with Diljit Dosanjh and Taapsee Pannu, started training with Sandeep Singh and Bikramjeet Singh in Juhu, Andheri, Mumbai. Bikramjeet Singh was a very strong player and his shots were quite powerful ones. So first I had to learn his main shots like drag flicks, scoops and snaps.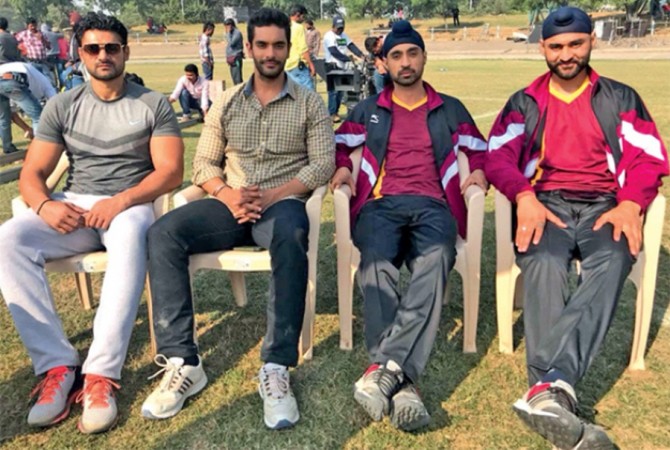 Bikramjeet was slightly on the muscular side while Sandeep was on the leaner side. Bikramjeet had a very different kind of stance while doing a drag flick and the way he ran while taking that shot with his left hand was also quite interesting. So I had to observe and try to imbibe these things to bring out the Bikramjeet Singh in me on screen.
I played hockey for almost two months and learnt how to dribble, how to dodge. It was very important to go through that stage. First you have to look like a hockey player and second your game has to be like a one who has played at the highest level for your country. So it will be a good movie to watch and look forward to when it releases on June 29.
Was it physically draining?
It was, because everyday we used to play almost four-five hours of hockey followed by extensive gym workout and shooting for the part. We didn't have much time so we had to learn very fast. And Diljit is anyway very fast since he is a singer.
I have to unlearn a lot of things as I have played cricket. I had to change the way I used to take the shots in cricket while playing hockey since you have to lean closer to the ground while taking your shots. So it was quite challenging for me.
How has your experience with director Shaad Ali and Diljit Dosanjh been so far?
Shaad is a showmaker. He loves to make family drama. His Saathiya and Bunty Aur Babli were beautiful films. I am glad that I worked with him because of the experience Shaad Ali has, and I wanted to be in a nice family drama. He has very nicely written the character of Bikramjeet Singh, which is completely different from the characters that I have portrayed in my previous films.
I have underplayed a lot of characters, you know. Like even in Tiger Zinda Hai, Namit Khanna is a very different individual altogether. He is very sure about his abilities. Rajveer Singh in Pink was
very quiet. But Bikramjeet is very vunerable, emotional and very high on energy. Shaad Ali has written my, Diljit and Taapsee's characters very very well.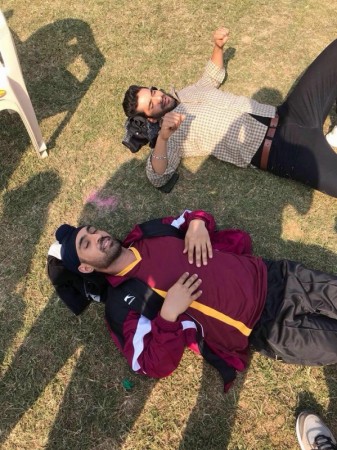 Diljit is a fantastic actor, I have to say. He is also a wonderful singer. After Udta Punjab, he did a lot of films in the comedy genre but I think when he did 84, something changed in him. In Udta Punjab, he stood out with his sincerity. He came out as the hero in the film despite having a strong star cast of Shahid Kapoor, Alia Bhatt and Kareena Kapoor.
Even in Soorma, I think he got a great character to play onscreen. He trained hard in hockey. His eyes are so true and innocent and it's very rare and heartwarming to see an actor who never goes and watches the monitor after giving his shot. He follows the instructions of his makers so well and diligently. He is very funny. He spends a lot of time on sets. He is director's actor.
Reports are doing the rounds that you are dating Neha Dhupia. Is it true?
Nothing of the sort. We have been good friends for 12 years. These rumours, they come and go. I feel when you are a part of Bollywood, your life is exposed to the media. And it's not like we will stop meeting and spending time with each other. But it's ok. It's fine.
And these rumours they personally don't affect me any which way. The only thing that affects me is the reaction from the audience after watching my film. That's it.