Malishka Mendonsa, popularly known as RJ Malishka, will be seen making her debut in this Friday's big release Tumhari Sulu, starring Vidya Balan, Neha Dhupia and Manav Kaul.
International Business Times, India, sat down with Malishka to talk about her debut film, work and a fun rapid fire.
Here are some excerpts from the interview:
Malishka, this is your debut film. How's the feeling? Nervous?
I know this is my debut film. It's been my dream forever. The great part of being an actor is that your dialogues are written out for you which doesn't happen in a radio station.
You trained Vidya for Lage Raho and now you are working with her, what's the difference? Has she changed in all these years?
Vidya Balan is a fabulous angel. She is naughty and mischievous. During Munna Bhai, Rajkumar Hirani told me that he wanted Vidya to have the same vibe as a radio jockey and she used to come and watch me and was left astounded. And in this film too, Sulu is astounded when she sees Albeli (my character) give out weather reports or traffic updates. She hasn't changed. Not once do you feel that you are working with a superstar and she will make us nervous.
Neha Dhupia plays your lady boss, in reality, we hear lady bosses are bitches, what do you have to say about that?
I want to dispel this myth here. I love this question. I don't think being a difficult boss is a function of being a man or a woman. It's a function of who you are. I've had lady bosses and they are fabulous to work with. I think men and lady bosses are amazing as long as they are not insecure.
Shooting for Tumhari Sulu – your most difficult scene and why?
The director Suresh Triveni cast me because I have been a radio jockey for so many years. I wasn't nervous at all. But the excitement was at another high. The movie is sweet fun and you will enjoy it.
Since you are already an RJ, how was it playing the same character on screen? Did you make any changes to your personality or character?
If I was given a choice, I would pick Padmavati or Dirty Picture as roles but for now, in this film, I was selected because I am talented (laughs) and also I know what a radio station looks like. It wasn't a conscious decision, but it's authentic if someone who knows the medium does that. Hopefully, in the next, I will play Rani Laxmi Bai (laughs).
How was it dancing on the iconic number Hawa Hawai? Were you scared that comparisons will be made?
I think it is inevitable. When an old song comes back, comparisons are made. Being a radio personality I know when an old song is badly hashed. But Hawa Hawai is really a tribute. We have kept the same vocals and the song fits the situation perfectly as three women are dancing and drinking at an office party.
You have an amazing way to deal with problems, a current problem/trend is - Trolls - How do you tackle them as you have your andaaz to handle things and are so social savvy?
By being fabulous. I have two ways – one is I completely ignore them. I like witty trolls. But if they are shitty trolls, I just wish them well in my heart, because I really don't know what they get out of it. I have been trolled badly but my combat is either I am witty or I am quiet because they don't matter in the grand scheme of things.
How has your journey been - RJ, TV and now film?
Adventurous. I have been a person who wanted to everything. That's the way to live life. For me, it's a natural progression. And I have been loyal. A radio journey leads you to other things – films or TV. Radio has helped me to get me where I am today. And ever since I was a kid I participated in everything and grabbed every opportunity that came my way. So that has been my goal forever.
Everyone is talking about this, I know this is done and dusted - but what is your take on Nepotism?
I have started to hear about how things have changed. People are giving a chance to people outside. I am not a product of Nepotism. There is a great talent coming from outside. More power to them and I hope it continues to happen.
Did Neha or Vidya bully you on the sets?
Oh yeah, lots. Vidya would do more than Neha.
Your new show – Entertainment Ki Raat – tell us what is it about and what will you be doing in it?
I have idolised Oprah and I love Ellen. It's a grand show which has a lot of characters. I am hosting the show. There will be games, drama and much more. I am excited as I am on radio, TV and film this month.
You are vocal about social issues and one topic that needs to be addressed is - workplace harassment, what is your take on this?
It's ridiculous. It should be voiced. Men or women. Harassment is of so many different kinds – mental and sexual. I have seen it, when you are younger it affects you more. Very often you don't know what do but times have changed. It is not acceptable for you to be bullied. We have learnt this over the years, it wasn't the norm earlier.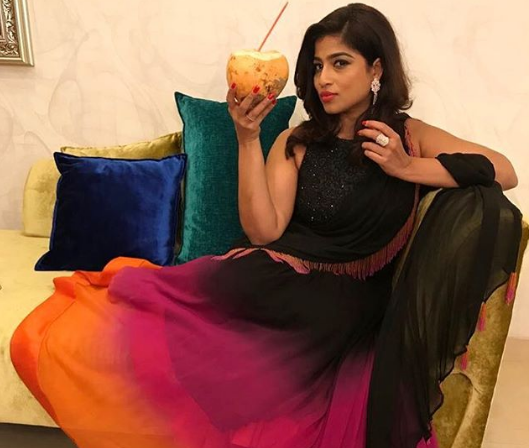 We have seen you transform from an RJ to a glamorous Entertainer. Did you ever feel pressurised that people might judge you or body shame you?
I don't care. Frankly, I got here because of my talent. It's not my body that got me here. Don't let people box you. I am proud of myself. Just because I am doing Bollywood doesn't mean I can't talk about serious issues. I am proud of the work I have done. My favourite phrase – This too shall pass.
Is Malishka – Single or Taken?
Honey, nobody can take me! But well, you are always single till you are married. But let me tell you this – I wouldn't have come so far without the support of some fabulous people. Yes, there is a special person in my life.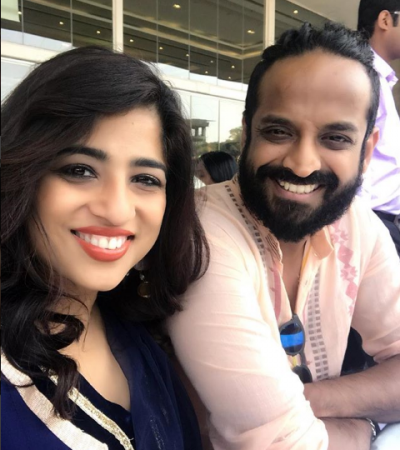 Why should people watch Tumhari Sulu?
It's a slice of life film. It will make you smile. #MainKarSaktiHai – you can do it. Also, I am dancing in it.
A quick rapid fire:
One thing which is annoying about Vidya
I can't do this and she can – she remembers everybody's names.
One thing about Vidya Balan that no one knows...
She always speaks her mind in a very polite way. She might laugh through it.
What is Neha Dhupia's secret?
She is amazingly confident but she goes back home and watches a lot of Netflix.
What is the best thing about working with Manav Kaul?
Manav has been a friend for many years. I have worked with him in the theatre. He is very reassuring.
One thing about RJ Malishka that no one knows
I can be quite shy. Nobody believes that. (laughs)
RJ Malishka is scared of?
Rats. Rats. Rats.
Love, Fame or Success?
Success. If you are successful, then you are famous (I believe) and you are loved. This is the definition in my head.
A role you wish you had done in Bollywood?
Vidya Balan in the Dirty Picture.
Men find Malishka attractive because?
She is confident and fun
One weird habit that you want to change – AS an RJ and As a Person?
I don't want to listen 'Kya baat hai'. As a person, to not be so distracted.