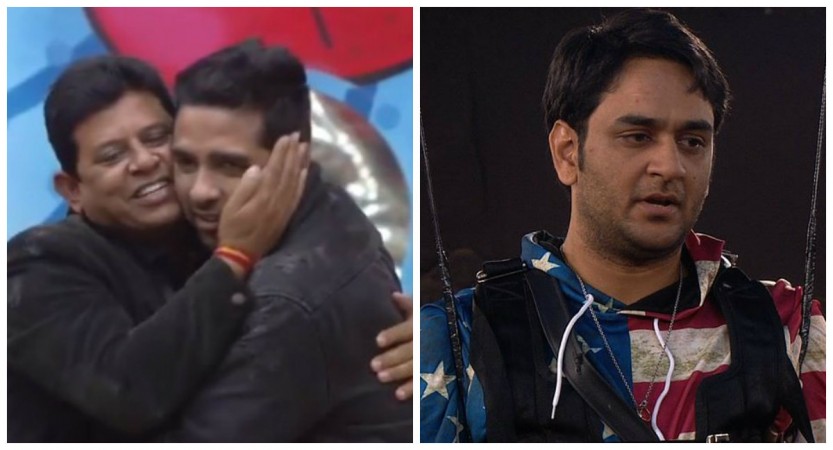 Bigg Boss 11 contestant Puneesh Sharma's father recently paid a visit to the house, and it was indeed a very emotional moment for the two. However, International Business Times India got hold of an exclusive information from the episode that is yet to be aired.
Puneesh's father entered the house at a time when the contestants were in the middle of the luxury budget task "Statue". Although the things that his father told Shilpa Shinde and Akash Dadlani are already out in the promo video, what is yet to be revealed is what he told Vikas Gupta.
Puneesh's father praised Vikas for his game plans in Bigg Boss 11, and called him the "real Bigg Boss".
"When Puneesh's father entered the house during the task when everybody was asked to freeze, Puneesh's father tells Vikas that 'you are the real Bigg Boss of the house. Because of you people have started using their brains more as you have actually made them think. You think so much that now everybody has started using their brains'. So he goes in there, looks into his eyes and says 'you are the real Bigg Boss'," a source told IBT.
Well, Vikas has truly been playing the game in the smartest way, compared to the other contestants. Being one of the strongest contestants, Vikas is being expected to win the show as well.
Meanwhile, Puneesh's father also said some lovely things to Shilpa and Akash. As soon as the man entered the house, he went to Shilpa and said that Puneesh's mother wants to meet her first. Then he went to Akash and said that he is Puneesh's real friend, both inside and outside the house.
The promo video then shows Puneesh breaking down as soon as he gets to hug his father. Then Puneesh tells his dad that he loves all his friends here, namely Shilpa, Akash and Arshi Khan.
Watch the promo video here: