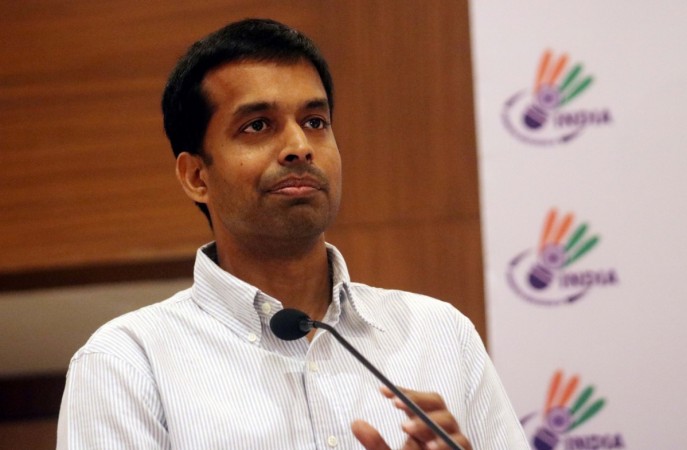 Indian badminton's chief coach Pullela Gopichand says strengthening the coaching unit has had a positive effect on the performances of top-ranked Indian Men's singles shuttlers in the recent past.
India became the only fourth country to have an all-India final in a Superseries tournament when former world No 3 Kidambi Srikanth and Sai Praneeth stormed into the final of Singapore Open earlier in April. Srikanth finished as a runner-up at the Lion City, but bounced back to win his second World Superseries Premier title in Indonesia.
HS Prannoy also impressed in Jakarta as he defeated world champions Lee Chong Wei and Chen Long enroute to the semi-final. He lost to unseeded Japanese shuttler Kazumasa Sakai 21-17, 26-28, 18-21 in a hard-fought encounter.
"It is good to see all of them doing consecutively well, whether it is Praneeth, Srikanth or Prannoy, I think all of them are consistently playing well. One of the good things is, we have been able to strengthen our coaching side," Gopichand told International Business Times India.
Badminton Association of India roped in Indonesian tactician Mulyo Handoyo along with his assistant Hariawan on a three-year contract in February this year to ease the workload on Gopichand. The former is best known for his successful stint with his compatriot and former Olympic champion Taufik Hidayat.
"We had Indonesian coach Mulyo along with Hariawan. We also have player-turned-coaches of the likes of Siddharth Jain and Amrish Shinde. They are now part of the coaching plan. Since all of us work together, we are able to focus better," Gopichand added.
"For me, it was really good because I was able to look at the training and concentrate on each of their programs instead of getting stuck on court. It just helped me take a step back, talk to the players and tweak their programs a little bit.
"We have also benefited from the fact we have a senior coach (Handoyo) with us to sit together and tweak the plans. We made key adaptations to the existing plans and it has worked good so far."
Gopichand also reveals that he is focused on making sure his players do not play too many tournaments, saying it is important to plan properly after hectic schedules during the Olympic year (2016) and the year before (2015).
The former All England champion believes that the Indian shuttlers have the ability to become world beaters, but they need to do the basics right to stay at the top over a period of time.
"Staying at the top needs a different kind of mindset. You need to be learning quickly, you need to adapt. You cannot be having any specific weaknesses. If you have them, they are prone to be exploited by your opponents. The shuttlers need to plan better, consistently keep learning new things to stay at the top," Gopichand said.