Unni Mukundan, the young sensation of the Malayalam film industry made his debut with the Tamil film "Seedan" in 2011, which was the remake of the Malayalam super hit film "Nandanam." Same year, his film "Bombay March 12" won him many accolades as a debutant. A year after, his film "Mallu Singh" cleared the box office with a huge collection, making him a young sensation.
Unni's good looks and charming smile did not let him down and the dashing actor is now back with a bang with Lal Jose directorial "Vikramadithyan."
Mallu Singh shares his shooting experiences of the film "Vikramadithyan," about his success and failure days, struggles, likes and dislikes with International Business Times, Indian edition.
Release of "Vikramadithyan" is just a few hours away. What are your thoughts now?
I feel good as people are talking good about the film. The production value of the film is great. It is a big film with a good star cast from an equally amazing director. The story of the film is excellent and expectations are high for the Lal Jose directorial.
Tell us more about "Vikramadithyan" and your role in the film.
"Vikramadithyan" is a family entertainer. It talks about two individuals Vikraman, played by me and Adithyan, played by Dulquer Salmaan. It revolves around the life of these two characters. The film is very close to me as a person, as I can relate to my character. Vikraman is more like me and doesn't have any exaggerated personality. He is 25 and is very ambitious. Same time, he gets excited when his father gifts him a bike. He is close to his family and friends and consider relationships to be the most important in life. You can see me smiling a lot in the film. The character is well balanced and more real.
Your look in the film with a mustache, which is much talked about. What is your take on it?
I play as a police officer in the film. Somehow, mustache is an integral part of a police officer in our film world. People haven't seen me with such a look and I think the buzz is all about that. I am happy that people liked that look. Even the character Vikraman thinks that it looks good on him.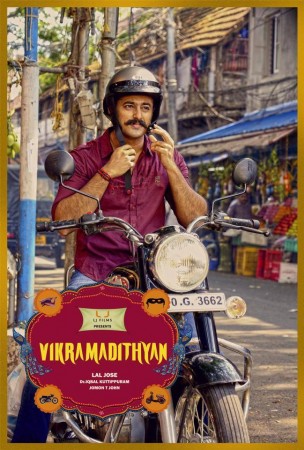 The film is also said to have fight sequences, so can we expect it as a good action film too?
"Vikramadithyan" is not an action film, but it definitely has some action sequences. Those are the integral part of the film and the script demands it. When you watch the film, you will feel that it is incomplete without those action scenes. More than actions, I think it is the cute little moments and dialogues that makes the film special.
How important is "Vikramadithyan" in your career?
See, it's an extension of my career. I have seen good as well as bad phases in my career. Many of my well wishers believe this film is going to boost my career. It will be great if it works out that way. The vibes of "Vikramadithyan" is great and is expected to do well. I felt the same vibe during the release of "Mallu Singh."
How was your experience with "Vikramadithyan" team?
The best thing about "Vikramadithyan" is that I got to work with Lal Jose sir. He helped me to reinvent myself. As an actor, I never knew I could do some of the stuff, which I did in this film. He is a director, who helps us to become a better actor. The film is again backed up with a great production team, who have placed it in the right way.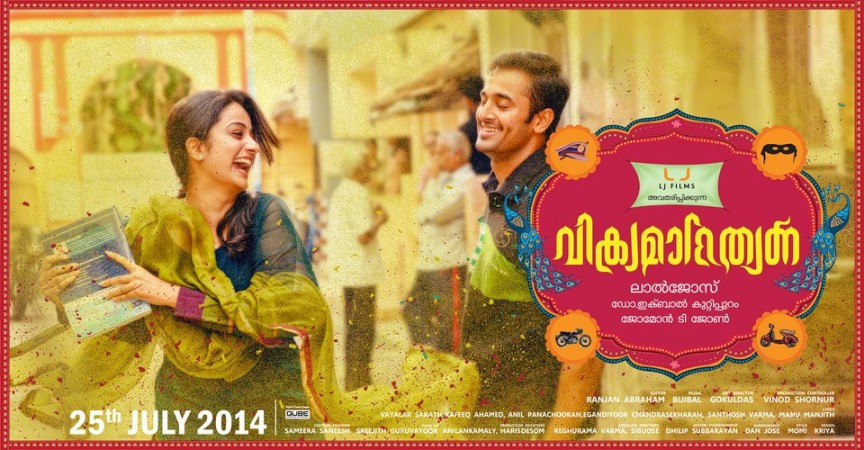 What about your co-stars?
"Vikramadithyan" has got the right blend of actors. All are amazing and talented. I shared a good rapport with Dulquer. He is a good friend of mine, with whom I share a lot of my personal issues. He is different in his own way and I do things in my own way. I think that is why we are connected.
At the same time, Namitha is a very young and confident actress. She is talented enough to make it big.
Then Anoop Menon, it's my third film with him. He is a very good actor and I enjoy working with him. There is Lena, who is a very talented actress. It was a good experience for me to work with a State Award winning actress.
Coming back to your career, it did not take off as it was expected. What were your thoughts when things went wrong?
You know when things go wrong, it is natural that you will be surrounded by negativities. But we should move on. Many projects, which I signed did not do well as they were not supported by a good production team. I cannot blame the director or its script for that. It is just that things were not right for them. From my experiences, I learnt that the production value of a film is very important. Even though my priorities are obviously the script, the director and the story line, I also understand that the entire film crew is equally important.
Has the failures of the film affected you?
Failures did affected my career initially, but as a person, it does not affect me. You just have to take the best from your experiences. I don't have a God father or any kind of background in this industry, like many others. So I had to create a space for myself. And people around you will give you all sought of advices. Sometimes, they are good and sometimes they are really bad. Past two years was a learning time for me. Thankfully, I was not offered any role, which side cast me. In a way, I am happy that people come to me with lead roles. I try to keep things simple and optimistic now. Same is the case with "Vikramadithyan." If it works out well, then it would be great, else I will have to carry on and I think failures are not going to stop me from reaching my dream.
What kind of advices you got from the industry?
There are many. Many of my well wishers have asked me to be more social and visible at the film events. That might work for many, but i believe not for me. There are also people who told me to tone down my muscles because they thought that won't fetch any romantic roles. I still don't understand why they gave me that suggestion. For them, muscles and romance don't go together. I got them with a lot of hard work. I don't take these kind of advices seriously unless they come with a genuine reason. I might consider toning down my muscles if they have a good reason.
Talking about fitness, you recently came up with a fitness video, which again is unusual for a Malayalam actor. Tell us about it.
My fitness video has nothing to do with my acting career. I grew up watching Salmaan Khan and Hrithik Roshan as I am brought up in Gujarat. The kind of influence they had on me was huge. As I grew up, I understood being healthy is wealthy. I work out every day and I think it's good to share with everyone.