One of the most prominent football TV hosts and a popular figure especially with the fans in India, Joe Morrison is one happy man after Bengaluru FC completed the transfer of India's No 1 goalkeeper Gurpreet Singh Sandhu on Thursday.
Morrison, who was formerly a part of Ten Network's popular 'C2K: Countdown to Kickoff' show as well as the host for the Champions League studio pre-match and post-match shows, has been representing Gurpreet since many years.
The football analyst has now mentioned that his client signing with one of the most professional clubs in the history of Indian football, is the best win-win scenario he could have asked for.
EXCERPTS from an exclusive tête-à-tête with International Business Times, India:
IBT India: Hi Joe, give me your thoughts on Gurpreet's transfer from Stabaek FC to Bengaluru FC.
Joe: First of all, Bengaluru FC's professionalism in doing business stands out. The love the club has shown to Gurpreet even during his European sojourn, is praiseworthy. Various representatives of the club and in particular the owners would message him whenever he hit a milestone, however large or small in Europe. This made Gurpreet very comfortable.
BFC have people in key positions within their club that have experience in the business and administration of sport. There are other clubs who have senior people employed who know neither about business nor anything about football.
BFC are the club that comes closest in Indian football to treating players like assets and not slaves. The fact that they paid a transfer fee to Stabaek shows they value Gurpreet. Clubs in India (at any level) need to start giving players longer term contracts so as to encourage player trading. That's the only way the clubs themselves will make money in the short term.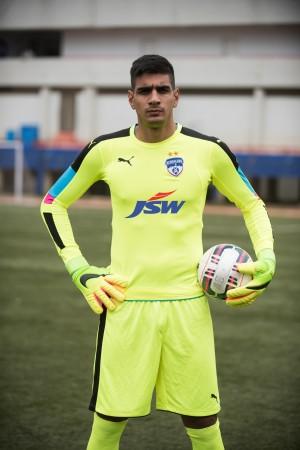 IBT India: Now that he is set to make his debut in the Indian Super League, do you have hopes that an opportunity from outside India can arrive again for Gurpreet?
Joe: Of course he could play outside India again, In fact there were a number of serious offers from all over Europe which were rejected either because of restricted game time, or the money was not right or in some cases because the club in question wanted to sign him purely as a publicity stunt.
IBT India: How did the year 2017 actually turn out for Gurpreet at Stabaek FC? The last few months, basically.
Joe: The term highs and lows is a correct one with reflection on 2017. Gurpreet has been in and out of the Stabaek team and the most important thing for any player (never mind a goalkeeper) is continuity and he was not getting that this term. He was in the first team only for a couple of games and that was not productive.
IBT India: Finally, your personal take on Gurpreet after the association over so many years.
Joe: He already is the greatest goalkeeper that India has ever produced. UEFA Europa League, top division european football, I-League debut at 17. Yes his goal is to dominate the position for the next decade, and that's what drives him.