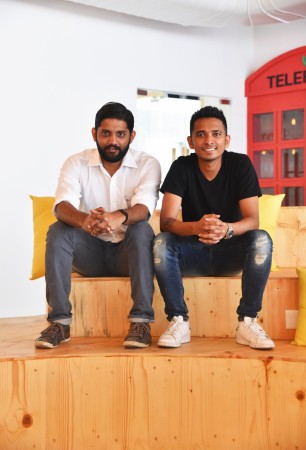 Lookup is the brainchild of an enthusiastic entrepreneur who was fascinated by the world of Internet and communication. After dropping out of his engineering degree midway, Deepak Ravindran from Thrissur started pursuing his dreams of running a standalone business. After implementing a couple of ideas into mobile apps, Ravindran started Lookup in 2014 and convinced several major investors to back his dream.
Today, Lookup is looking to bridge the gap between the offline and digital world. With 1.2 million registered users, Lookup is apparently handling hundreds of requests each day and fulfilling them by connecting offline retailers to customers in need of almost anything.
"Lookup is like a close friend, a buddy, you can turn to if you need help buying anything. You ask for things you want to buy and where to get it in the quickest way possible. Lookup is also trying to create a new friend list with offline businesses and make it easy to communicate with vendors," Ravindran, creator of apps like Innoz and Quest, and founder and currently CEO of Lookup, told International Business Times, India, during an exclusive interview on Friday.
"This generation needs something which is easier to use and comfortable. Lookup is a local shopping network," he said.
Lookup is a free mobile app available on Android and iOS platforms that connects local businesses to customers to fulfil daily needs and necessities. While it gives an opportunity to offline vendors to digitalise, the app also spells convenience for customers by bringing almost anything and everything to the fingertips.
Ravindran also explained how Lookup is evolving into a better product from being just a "baby" a year ago. The company recently hired Narayan Babu, the former director of engineering at Quixey and co-founder of Dexetra, as CTO to enhance Lookup's customer experience with better implementation of technology.
We sat down with Ravindran and Babu for an interview on Friday, and talked about how Lookup plans to flourish in the competitive field of ecommerce. Here are some edited excerpts from the conversation with Ravindran and Babu.
International Business Times, India: Is Lookup planning to use Babu's expertise with Dexetra and Quixey and bring similar tech into its own app?
Narayan Babu: We will see what is required for Lookup instead of necessarily using similar tech with prior experience. We will surely bring the expertise to Lookup on a case-by-case basis. Lookup is like an assistant and we can bring in some of the elements of machine learning and AI (artificial intelligence) into this for a better experience.
IBT India: How does Lookup plan to add support for feature phones?
Deepak Ravindran: Lookup has a long code, using which users can order things, but the whole focus is on messaging. Lookup will never integrate the voice-calling feature.
Innoz, Lookup and Quest are all in the same messaging space. Innoz was popularly called "Google Offline", as it could get any answer from the Internet with an SMS. Quest was built to connect users to nearby people and get answers to questions of their interest, eliminating bots; in short, something like Quora for mobile phones. Lookup is a mix of both, and uses machines as well as humans to interact with users for a lively experience.
People will come on the Internet and that's where Lookup is trying to be when the change happens. With phones like Freedom 251, anyone can get Internet on mobile phones.
We believe in chat and that's the way forward.
IBT India: How many requests does Lookup handle each day?
Ravindran: Lookup fulfils 300 orders per day with successful delivery, and the average price range is Rs 250. In case of food orders, the average price range goes up to Rs 400.
IBT India: How many requests are handled by the AI and vendors?
Babu: We are building trust with the users instead of letting bots handle tasks. The AI only helps identify the customers' concern and connect to relevant vendors.
IBT India: What has been the most popular product category on Lookup?
Ravindran: Last year food was the most popular category for Lookup requests. Extensive advertisements of food start-ups and apps led many people to start using Lookup thinking it is a food app. Around 50 percent of the orders were related to food.
This year, there has been a spike in requests for medical supplies and groceries. Lookup covers all categories and is getting good response for spa and salon bookings as well.
IBT India: Out of the 1.2 million registered users, how many active users does Lookup have?
Ravindran: Last year a lot of youngsters were added to the platform. We got a million users in around eight months, with majority coming from the younger age group. But offers and discounts from other apps pulled them away from Lookup.
This year, we are focused towards age group of 30 to 40 years. It's a new market and Lookup is targeting them to establish a loyal customer base. As of last year, Lookup was in its infancy and basically a collaboration of WhatsApp and Google Maps. With the guidance of a new CTO, Lookup underwent a major makeover right from scratch.
This year we are looking at a five-fold user growth, both active and registered.
IBT India: Is Lookup running its operations from VC (venture capital) funding or is there a revenue source in play?
Ravindran: We used VC funding to grow Lookup's user base last year. But we started generating revenue this quarter. Lookup has premium vendors, where businesses pay Rs 1,000 per year. Also, Lookup gets commission from vendors between 5 percent and 15 percent on every order. For instance, hotels give 8 percent of the total order, groceries orders fetch 5 percent and in case of electronics the percentage is higher.
IBT India: How is Lookup planning future revenue models?
Ravindran: Lookup is planning to introduce a hyper-local ad network in partnership with offline businesses so they can get their offers to customers. The app will support pictures as banners and allow businesses to target users based on their interests next year.
The company is planning to change its annual subscription model for premium vendors to monthly subscriptions.
IBT India: Any revenue targets?
Ravindran: We are targeting Rs 50 lakh in total revenue for the current quarter.
IBT India: How many offices/ R&D centres / business centres does Lookup have? And the number of employees? Are there any plans for expansion?
Ravindran: Lookup has four offices — one in each city of operation (Bangalore, Mumbai, Pune and Delhi) — and a total of 100 employees. We are not expanding, but we are hiring new tech engineers.
IBT India: Is Lookup planning to bring its service to other cities?
Ravindran: We will focus on the existing four cities where Lookup currently operates, and improve the service instead of expanding. We also lack the necessary staff to expand to other cities at the moment.
IBT India: Lookup has 85,000 verified businesses in India. Is it fulfilling the needs of all the customers?
Ravindran: Lookup's vendor database is growing continuously. We are aiming to reach a million vendors by the end of this year.
IBT India: Can you share the stats on system outages/downtime?
Babu: We haven't had any major downtime till now. We have a working time of 8 a.m. to midnight and have a reliable maintenance system.
IBT: How did Lookup work with WhatsApp and others?
Babu: Lookup is independent of WhatsApp and has its own data servers.
Ravindran: But the app was earlier integrated with WhatsApp as well as Twitter to get a head start on grabbing more users on the platform. We were thrown out of WhatsApp for our growth. The company used WhatsApp's free libraries, which was not covered in the terms of service, for integration.
IBT India: Is Lookup planning to support Windows Phone and Windows 10 platforms in the future?
Babu: We will take our time. We need to tackle the mass of the 80 percent of the market, which is mostly Android and iOS.
IBT India: Where do you see Lookup 10 years down the line?
Babu: We are trying to build Lookup somewhat like what Facebook has done with Pages for businesses. Lookup is for the offline world, letting small vendors reach customers online and be a part of the digital world.
IBT India: How does Lookup manage deliveries without sharing customers' telephone numbers?
Babu: We share the location of the customer via GPS and the customers can give their address via Lookup chat. Lookup shares contact information of customers with delivery partners on a case-by-case basis.
IBT India: Is there a spike in user requests during special occasions like Valentine's Day?
Babu: Yes, of course. Vendors on special occasions approach customers with offers, but Lookup doesn't participate in any kind of cash-backs or deals.
IBT India: Did you face any confusion with the name, as LinkedIn has a Lookup as well?
Ravindran: Doesn't matter. Lookup is a great name and we are proud to have it. There was no confusion with LinkedIn Lookup because Lookup has more users.
IBT India: Tell us something about your new office space.
Ravindran: I have been to the US and seen open-space offices. I felt the need to bring something like this to India. The flat hierarchy of Lookup's new office makes for a compelling workspace for employees and lets them reach out to anyone anytime.
Lookup's new office is spread across 5,000 sq. ft. and is in the one of the prime locations in Bangalore city.
["This place is far better from my experience," Anushwa, who handles the content-related work at Lookup and has worked with the company for four months, told IBTimes India. "There is a flat hierarchy and anyone can reach out to anybody without obstruction. The dynamics of this ambience improves work quality and brings active and dynamic work style. The PS4 and hoverboard add to the recreations.
"It is a huge step up from the previous office," said Sainath, who has been a part of the Lookup's tech team. "I joined when we were 36 people, but adding new employees impacted the workspace. But the new office is meant for growth and interaction. Makes it easier to approach anyone and looks more organised."]
Check out some photos of Lookup's snazzy new office space below: [Slideshow]