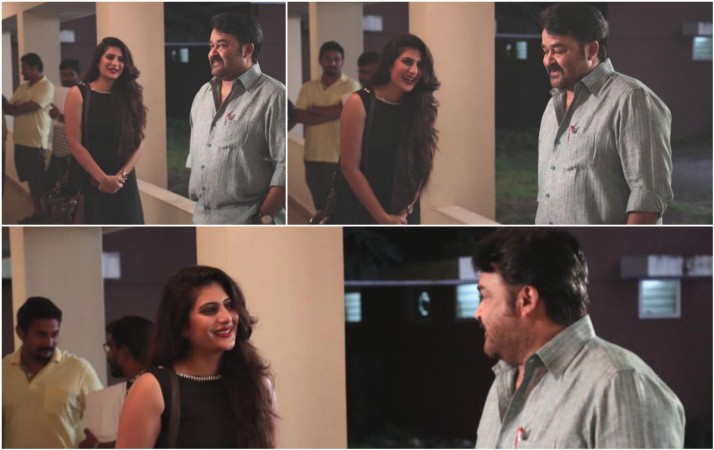 As Neha Saxena said to International Business Times, India, the letter 'M' seems to be very lucky for her. After the debut 'M'ollywood movie with megastar 'M'ammootty, the "Kasaba" actress is now set to share screen space with superstar 'M'ohanlal in her second 'M'alayalam movie.
Neha, who played Susan in Nithin Renji Panicker's debut directional venture, told IBTimes India that she plays a pivotal role in the upcoming Mohanlal-starrer, directed by Jibu Jacob. In the as-yet untitled movie, Neha will be seen as Julie, an NRI who becomes a turning point for Mohanlal's character, who is an ordinary man spending life with his wife (Meena) and daughter (Aima Sebastian).
Neha also expressed her excitement in working with the versatile actor, whom she had met eight years ago while she was working in a hotel in Dubai. On Wednesday, Neha revealed about her acting experience with Mohanlal via a Facebook post. She also wrote about her first meeting with the superstar when she didn't know him and asked for his name and room number as part of her job.
Following is the post she wrote on her social media account: "The gentleman whom I met 8years back in dubai when I was working in hotel industry .Night shift and like from no where on duty I asked him Excuse me Sir may I know ur name please?? and what's ur Room number ??? he being polite enough gave me his complete details and understood that I was doing part of my job . Later when I was told that he is one of the biggest star of South Film Industry and know as LalEttan with love .. I rushed to him next morning and took autograph ☺️☺️" [sic].
When IBTimes India asked her about her experience of working with Mohanlal, the actress said: "Mohanlal is so simple. Actually simple is not the apt word, he is a down-to-earth person who is very supportive."
Neha was especially impressed with the warmth and compassion he shows towards others. "Despite being a superstar, he is willing to take many takes to make our character perfect. He often asks 'How are you feeling?' to make each one of the crew member comfortable in the set," she elaborated. "Calling me a guest, he welcomed me to the film family and wished me to achieve more heights. Mohanlal is a person who respects humanity as he was even seen helping the crew members by working as a team."
Neha got the role after the upcoming movie's producer Sophia Paul contacted her and narrated her the complete script after seeing her performance in "Kasaba." The actress, who is set to wrap up her five-day shoot in Calicut, Kerala, will re-join the sets of her upcoming Kannada movie.
"When I informed the director of the Kannada movie about the Malayalam movie, he was very supportive and allowed me to take a break from the project. After completing my combination scenes with Mohanlal, I will have to join the team of the Kannada film," Neha told us.
The upcoming Jibu Jacob film is said to be a political satire, in which Mohanlal plays the role of a panchayat secretary. The movie, which also stars Biju Menon, Nedumudi Venu, Aju Varghese, Suraj Venjaramoodu, Sudheer Karamana and Kalabhavan Shajon in pivotal roles, is expected to hit the screens in October or November this year.