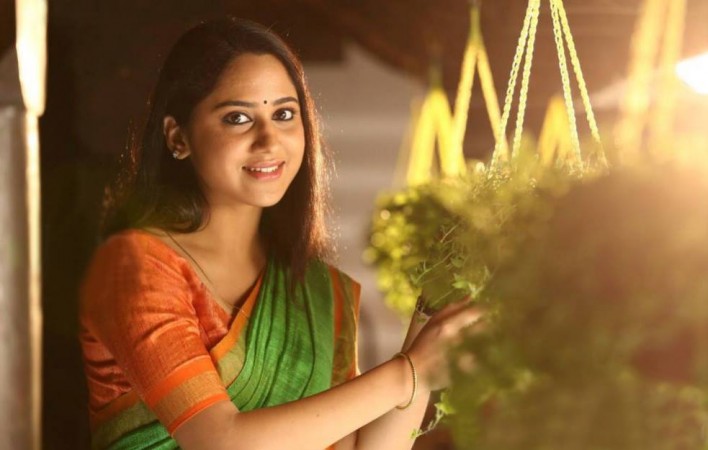 From her first film in the lead role to her latest film, actress Mia George has been the same person. Mia's career graph has taken her to heights from the film "Chettayees" to her latest "Hi, I'm Tony." She is always bubbly and the kind of energy she spreads is extremely positive. She is currently shooting for the Malayalam film "Hi, I'm Tony" and is awaiting for her first Tamil release "Amara Kaaviyam" in July. Mia tells us about her life in and outside the film world.
Lots of changes happened in your professional life since the release of "Chettayees" in which you played the lead heroine for the first time. But on the other hand, nothing much has changed in you as an individual. You are always approachable and unlike some of the leading actresses, you are only a phone call away. How do keep up such a status quo?
MG: It's true that I haven't changed much from my first film. So what if I have acted in few more films? I believe I am the same person as I was from day one and I feel good that I am like that. I don't find a reason for not picking the call when I am actually available. At the end of the day, even if I play the roles of a super lady on screen who can dance or who can fight all odds that come her way, I am the same Mia from a small town named Pala in Kerala.
How easy is it to remain so? Because, wherever you go, media and public are going to watch you.
MG: I don't think you have to be worried about it if your approach is same to everyone. Initially, I was conscious about all the attention I was getting. But now, I realize that it is part and parcel of your life. I would also like to mention the fact that they are also part of my life. I thank media for their attention and public for their love that they have given me.
Coming back to the days of "Chettayees," your name was Gimi before playing the lead in the films. Then what made you to change your name?
MG: See, it was not me who changed my name. The whole team of "Chettayees" named me Mia. It's because, people never pronounced my name correctly. Some called Jimmy, some Gimmy and some said my name gave a notion that I am a man. So, Shajoon sir, the director of "Chettayees" took initiative and changed my name to Mia. For me, that name was like a lucky charm as it has brought me the best experiences so far.
Your story is not a one night journey to fame. You have been in industry for quite some time. You entered industry with few small roles and later ventured in to the lead roles. Was the struggle easy for you?
MG: Let me clarify that it was not a struggle for me. I never made an effort to come to this industry. I never did a good portfolio for myself nor any audition for films. My entry to this world was by chance. I started with a TV serial St. Alphonsa, to play the title role. I played that character because the music for the serial was done by priests at my church and I was a devotee to St. Alphonsa. Fortunately, the serial became popular and I was later called for some small characters in films. Same was the case with "Chettayees," they were searching for a new face and they saw me in these small roles. I am lucky that they thought I am fit for the character.
Your character in "Chettayes"was that of a possessive wife. Not many take the risk of doing a character with grey shade on their first film as lead heroine. What were your thoughts when you signed "Chettayees"?
MG: When I signed "Chettayees," I was happy that I am starting my career with such a wonderful team. All my co stars were well experienced and established. I felt fortunate to share screen space with the bests in the industry. Moreover, I was playing a central character in the film who keeps all these stars on toes. I don't think one can ask for a better character than this for their first film. Yes, the film did not see me romancing someone and dancing for a song. But, I think it was the best choice that was given to me.
How do you choose your film?
MG: Firstly, it is about the character. I see if the character has any importance in the film or it makes any difference to the film. Then, I will see the director, co actors and rest of the crew. The final decision is made only after consulting my family. If they think I can do it, I go ahead with the film.
So do you prepare a lot for your films?
MG: I don't prepare at all for my films. I am a very lazy person. I usually go to the set and then see how it works out for me. Because, there is no point in preparing. You never know what will be your first take. I was always tensed on first day of shoot for all my films as you are not familiar with the team. But it cools down eventually. I remember the first day of shooting for "Mr. Fraud." It was a big scene. There were around sixteen artists in the scene including Mohanlal sir. The worst part was that, only I had the dialogue and it was a long one. I have no clue how I managed to finish that scene.
Have you ever said "no" to any film offer?
MG: Yes, some of them. But you know, I cannot say yes or no to anyone. I leave it all to mummy. She is my strength and my manager. Nothing comes to me or goes from me without her consent. If someone talks to me about a film over the phone, I will tell them that I will think about it and let them know later. If it comes to me that the particular film does not suit me, I tell mummy to handle it, simply because I can't say a "no" to anyone. I know I should learn to do so but that is how I am.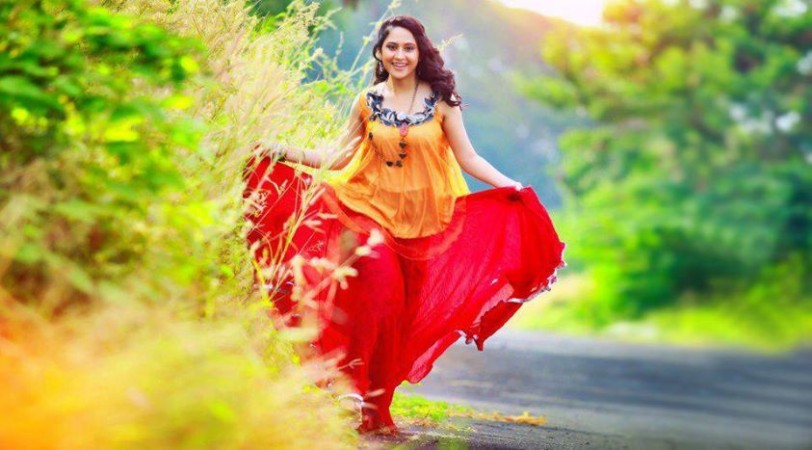 How big is your mother's role in your professional life?
MG: Oh... it's big! I can't do anything without her. She is my strength. I go to film sets with her. That is my comfort zone. Yes, there are heroines who come to film set without their mothers or family because they are very fine without them in the set. They are much professional than me at work. They say acting is like any other profession. They come, finish their work and go home. I can't do it. I feel a part of me is missing when she isn't there. She adds to my confidence level. It is she who made sure I learn dance and practice it. She used to fill the forms and send me to various contests. At the age of four, she had sent me for the 'best smile' contest for kids. I had won it and I still remember getting a trophy and a box of chocolates as prize. So that how she started nourishing me throughout my life and she continues to do that without fail.
You are going through a beautiful phase in your career. Is there anything that you will cherish forever?
MG: Yes there are many. But some experiences stay with you forever. Acting with Mohanlal sir is one such experience. He is someone who is known all around the world for his craft in acting. To share a frame with a master like him is worth cherishing all your life. I don't think I can ever forget that. Another such experience was of the film "Ettekaal Second." There was a song sequence which was shot under water and was an experience by itself. I did not know how to swim and I was little skeptical to do it. But, the team gave a lot of confidence and I went ahead with it.
You may not have changed but has the attitude of people around you changed?
MG: The only that have changed for me is the kind of attention you receive from people around you. But again nothing has changed for my friends or family. For my friends, I am the same old Gimi. They tease me with my new name Mia. They call me and ask when I am going to join them in college. I am sure they will be least bothered even if I win Oscars.
Again, you are doing your post graduation now which is not common for heroines. How do you manage it?
MG: You know, even I was worried about it. I thought of taking a year break and then continue with my studies. Then later I thought of doing it privately so I just have to go and write exams. But I knew I would miss out something in my life if I don't go to college and study. Your college life gives the best memories of life. I did not want to miss out that part of my life especially when all my friends are enjoying it. So I am doing my post graduation in English literature in St. Thomas College at Pala, Kottayam. I think it is my family, friends and my college life that keeps me grounded.
So, are you planning for a shift in your career?
MG: Not now! May be later in my life. But right now, I am very serious about my films. I was not serious about it initially. As I told you, films came to me by chance and I was not planning to make it my career. But now, I am falling in love with this film world and acting. I don't want leave this until I am sure that I made presence felt in the world of films. I want people to remember me in the list of top Malayalam actress like Urvashi ma'am and Shobana ma'am. I know their hard work and commitment for their films is not easy to be matched. But I am ready for it now and want to move ahead.
You have now made your entry into Tamil film industry also. Tell us more about it.
MG: Yes, I am done with the shooting of a Tamil film. The film's name is "Amara Kaaviyam" and it is produced by actor Arya and directed by Jeeva Shankar. The film features Arya's brother Sathya in it. It is set to release this July. Tamil film industry is really different because it is a very big industry and things are done in a much bigger frame. They give you lots of respect and the way they treat you is different. They will come and tell you sorry if the shot is not ready and if you are made to wait. I felt little awkward at the beginning and later I became used to it. It was a great learning experience.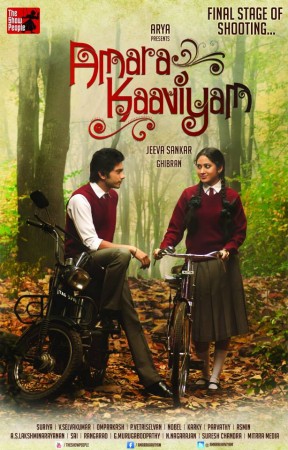 Tell us about your upcoming projects.
MG: Currently, I am doing Junior Lal's "Hi, I'm Tony." Its shooting is going on. The team is almost same as Lal Juniors's "Honey Bee." But unlike his first film, which was all fun filled, this film has a grey shade in it. The name of my character is Tina, who is there from starting till the end of the film. I am not supposed to reveal much about the film but there is lot of expectations for this film. Then "Amara Kaaviyam" is there which is about to be released. I have not committed many films now because my exams are here in July and I want to do a good job there too.