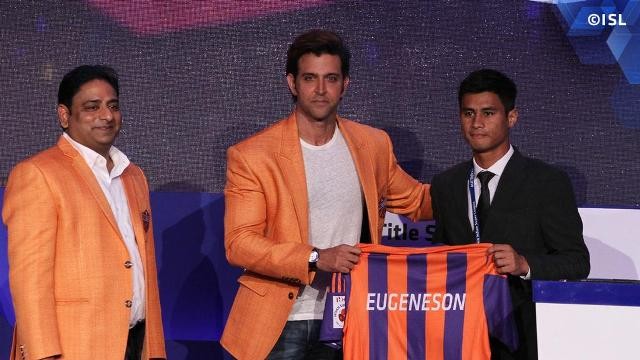 Indian football star Eugeneson Lyngdoh grabbed all the attention in the Indian Super League 2015 Player Auction in Mumbai on Friday, and like many football fans, the player himself was left wondering about what had just happened.
The 28-year-old midfield maestro was bought at a whopping price of ₹1.05 crore by the Hrithik Roshan-owned FC Pune City at the ISL 2015 Auction and Domestic Draft. Adjudged the Best Midfielder of the I-League 2014-15 season, Eugeneson was stamped at a base price of just ₹ 27.5 lakh.
In his own words, the Bengaluru FC lad was initially tense at the start of the bidding process as he did not attract bids of a high margin, but as the bidding progressed, the offers started coming thick and fast.
The war of bids ended with FC Pune City bagging the player for the whopping amount, and Egeneson admitted it was a "great" feeling.
"It was intense and there was excitement all along. It looked like it was okay before the turn, but once my turn came, I was like what's going on....!" the Bengaluru FC fan favourite told exclusively to IBTimes India.
"I couldn't actually believe what was going on."
One of only two players at the ISL Player Auction to enter the ₹1 Crore club, along with India talisman Sunil Chhetri, Egeneson says that he was "lost in a dream".
"I'm actually looking for words to expres myself, but I'm lost in a dream," Eugene continued.
"It [Pune's offer] was huge. I was all praise to God after the bidding got over.
"I got to give credit to everyone at BFC [Bengaluru FC], especially [coach] Ashley Westwood, [Assistant Coach] Pradhyum Reddy, [Goalkeeping Coach] Ali, [Strength and Conditioning Coach] Sarvana, [National Coach] Stephen Constantine, my teammates at BFC and [BFC Physiotherapist] Tanveer.
"All my ex-coaches at Rangdajied, Ar-Hima [later named as Rangdajied], and Shillong Lajong. Also, not to forget my family and friends as well, and all my fans, and especially God."
Eugeneson's teammate at Bengaluru, Rino Anto, also made headlines at the auction, as he rose from the lowest base price in the auction to become the third most expensive player.
Defending ISL Champions Atletico de Kolkata purchased the versatile fullback, who can also play as a winger, for a sensational price of ₹90 Lakh – only third to Sunil and Eugene, who were sold at ₹1.20 Crore and ₹1.05 Crore, respectively.
Rino Anto was stamped at a base price of a mere ₹17.5 Lakh.
"He [Rino] deserves it. And all the players at the auction deserved it. I'm very happy and pleased for them," Eugeneson continued.
"He was bursting with joy at the end of the auction. I'm happy for Jackichand [Singh] too. He has been very patient and it paid off finally."
Manipuri lad Jackichand was also picked by FC Pune City for a price of ₹45 Lakh.
Eugeneson is now waiting for the time when he can start training with Pune ahead of the second season of the ISL, and he is raring to make his mark right from the start.
"I cannot wait to begin training with Pune and am obviously looking forward to matchday," the midfielder, also one of the best dead ball specialists in Indian football at the moment, added.