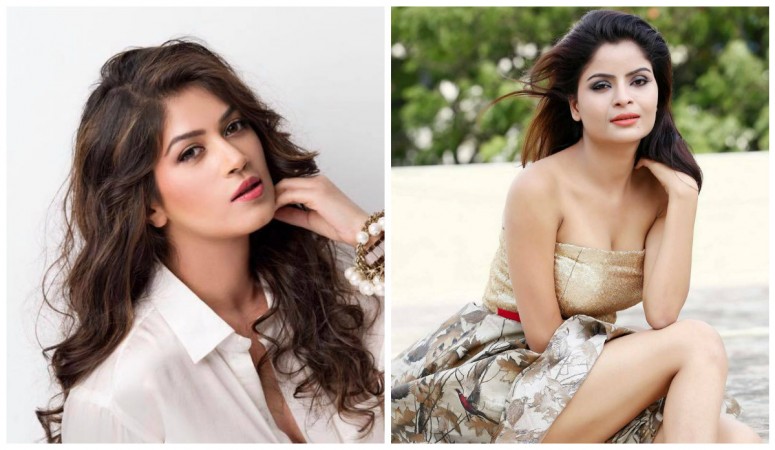 After targeting Arshi Khan, south actress Gehana Vasisth has now turned the radar towards another Bigg Boss 11 contestant Bandgi Kalra. Gehana now claims that she has in possession an intimate video of Bandgi.
In an exclusive interview with International Business Times India, Gehana said that she has a video in which Bandgi is seen "hugging and kissing an unknown model".
"Bandgi Kalra video refers to a MMS of Bandgi getting cozy with a male model. It is during a shoot and it was probably shot by some unitwalas. It shows Bandgi passionately hugging and kissing an unknown model whose face cannot be seen," Gehana said.
Earlier, Gehana had claimed to have released a "sex video" of Arshi on YouTube. In a statement, Gehana had said that the video she released was "Arshi Khan's sex MMS in a hotel room with a client". Arshi's publicist had had it removed within 30 minutes, the statement had added.
The model-turned actress had also said that Arshi's "sex video" was leaked on some foreign sites, but the sites had crashed. She, however, had saved the "first unedited version of the video".
Gehana has been making scandalous comments on many Bigg Boss 11 contestants, and so IB Times asked about her source and its authenticity.
"It's very simple. I am in the industry for the last 8 years and working extensively. I have done 20 films in Bollywood and the south and thousands of print shoots. I know every photographer, choreographer, director, etc., All the above characters and I share something in common, be it a choreographer, hair dresser, make up man or maybe even driver in one case. It is a very small world and everyone knows everyone," she said.
She also responded to allegations of trying to hog limelight with false statements. "I have done 20 films, hundreds of episodic serials, short films, thousands of print shoots etc over a period of 7 to 9 years in all. I have my own flat and car in Mumbai. I do not need cheap publicity.
"But when I saw that cheaters and liars are getting shows like Bigg Boss by blatantly lying about everything, I decided to expose them. For the first two weeks of Bigg Boss 11 I was quiet. I did not say anything. But then I noticed the lies and frauds were going on and on and even Bigg Boss was not taking any initiative to make its contestants come clean on the show," she said.