Not many of us might have heard of Indian paddler Kaustubh Khade, who has been setting milestones in water sports for long. A Limca Book of Records winner for taking the longest ever solo kayak trip, covering 415km in the Arabian Sea over 17 days in 2015, from Mumbai to Goa and a two-time silver medallist at the Asian Dragon Boat Championships with the India kayak team in 2012, Kaustubh is now embarking on a close to three months journey, covering the entire west coast of India, from Gujarat's Devbhumi Dwarka district to Kanyakumari.
The 29-year-old, an IIT Delhi alumnus, is not alone in his upcoming expedition, starting early morning of November 12. He is being accompanied by his girlfriend Shanjali Shahi, an accomplished cyclist. Land and sea! While Kaustubh will be on his kayak, journeying through the sea, Shanjali will be on her cycle, for the ultimate road trip of her life.
International Business Times, India, caught up with Kaustubh just a day ahead of his another milestone expedition to know about his thoughts ahead of his venture and the kind of toil he has put behind for this. EXCERPTS
IBTimes India: You are doing what nobody from India has ever done before. Give us a preview of your expedition from tomorrow.
Kaustubh: Shanjali and I are starting at the same spot in Dwarka, Gujarat, for the journey. In the morning, we get out by 5.30-6 when the light is out. I am hoping to be in the water for six to eight hours a day, while she'll be cycling at the same time. We have pre-destined locations where we will stop, on the beach basically.
About the duration of the journey, well, I average 6.7-7km an hour, so 6-8 hours a day means I'll be covering an approx 40-50km. Now, if the pace is consistent, then say over 60-70 days of paddling, I'm left with 3,300km.
IBTimes India: What about the rest days?
Kaustubh: Yes, there will be rest days. In the last expedition from Mumbai to Goa, out of 17 days, we had three break days. Two of those were forced as by day four, I fell ill and it took days for me to recover. Then on day 12, we again had a mishap. Based on these things, the journey doesn't go as exactly as planned. So, taking into account all of these, I except to reach the target in three months time or maybe, under that period.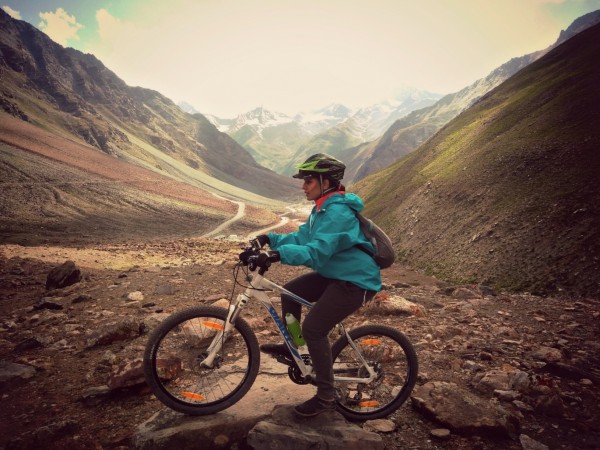 IBTimes India: What is the best thing you have learnt from the previous expedition? Anything you would like to share.
Kaustubh: Haha, well, I've started taking office life in a little more relaxed way. I have learnt that there is no point cracking jokes and playing politics in office after you got your job done, when you have the time to go outside work and spend fruitful time in something else.
IBTimes India: That's really interesting. So, how are you balancing your work life and passion so effortlessly?
Kaustubh: Balancing between the two is not very easy. You have to work towards it, but the very important thing is taking the first step itself. Once you step out and see, just like in any other adventure sport like paragliding or whatever, you should always take the risk. Getting that pump of doing it again will automatically follow. You will do everything in your power to try it out again.
When I'm training, I'm out on the water four times a week, so basically, two days through the week. I see if there are any early morning meeting. If not, I drive to Marine Drive in Mumbai, train there and then return. On weekdays, I concentrate more on speed and techniques training, while on weekends, it is more of training for endurance and techniques. You have to learn to be mobile.
I live in Powai and if training is all the way in Marine Drive, then instead of taking the car, I take the train. While sitting in the train, I can get my work done, like sending emails out and reverting to them. I have even taken my laptop in a sailing championship and worked between two races as well as taken official calls from remote places.
IBTimes India: Okay, I'm getting inspired already. Tell me more what you want to convey to the youngsters.
Kaustubh: First thing we should look at is getting out and doing whatever we want. We always complain about the Indian infrastructure and keep saying the western world is so developed in terms of sports. This mentality hampers us from doing anything. For common people like us, that even stops us from taking basic adventure journeys like camping and trekking. Very few people actually end up doing that.
Whether it is kayaking or cycling or any sport in general, like camping on hills, paragliding or any adventure sports, just do some research and get yourself out to do that particular thing. Always go prepared at first and take the leap of faith.
IBTimes India: We've seen rower Dattu Bhokanal make a bright name for himself at the Rio 2016 Olympics. Can we see you now making it big in kayaking at the 2020 Olympics?
Kaustubh: Unfortunately, I gave up competing after 2013 Asians. I am more into long-distance expeditions now. It's more of a personal kick that is making me take course to these unique expeditions. Shanjali joining too is an added advantage. The experiences are shared on my blog. We take a lot of photos, videos and personal memories to look back in the future.
When people read my blog, they actually realise what it is like to travel through water and that gives them an instant kick to try it out. So, this is what we both aim for.