At 25, India's reigning national champion HS Prannoy has already seen several highs and lows in his career. While winning a silver at the 2010 Youth Olympics brought him to the spotlight, the Pullela Gopichand-ward showed he has it in him to succeed at the highest level when he stunned an in-form Lin Dan at French Open in 2015.
Nonetheless, Prannoy had been struggling to make best use of his potential and turn it into consistent results as a long list of injuries proved to be his toughest opponent, more often than not.
Also read: Winning medals at Commonwealth, Asian Games more important than rankings in 2018: HS Prannoy
By his own admission, Prannoy had struggled to find a balance between quality and quantity in the lead-up to the Olympic year in 2016. He had come up with some inspiring victories, but consistency had always been an area of concern for the Delhi-born Kerala man.
'2017: One of my best seasons'
However, Prannoy was able to prove his doubters wrong in what was one of his "best seasons" for him in 2017. The young shuttler had decided to take a break and reassess his game after his crushing first-round exit at India Superseries in March last year.
The Indian shuttler reveals he made a "conscious decision" to not to be in the race for a World Championships slot and rather focussed on "taking a break and working on training aspects".
The move worked wonders for him as he stunned legendary names Lee Chong Wei and Chen Long in successive rounds at the Indonesia Open before failing to cross the semi-final hurdle.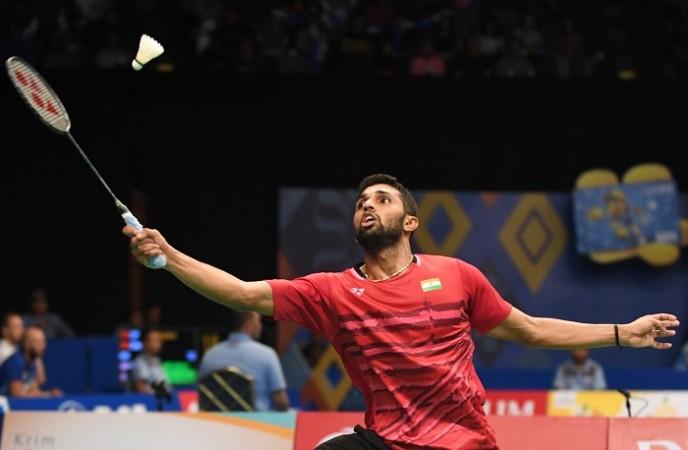 Prannoy proved the Indonesia Open run was not a flash in the pan by clinching his third Grand Prix Gold title at US Open in July 2017.
After outclassing Chong Wei for the second time in the year at Denmark Open, Prannoy reached the semi-final of French Open, losing to eventual champion and good friend Kidambi Srikanth in a fiercely-fought three-game encounter 14-21, 21-19, 21-18.
Prannoy had played the semi-final like "the beast", according to Srikanth. As it turned out, "the beast" was at it again at the Senior National Championships final, in which he claimed revenge against the numero uno of Indian men's singles badminton.
After having finished 2017 with a career-high ranking of 10, Prannoy is looking set to climb the BWF ladder even higher.
Prannoy will open his 2018 campaign at Indonesia Masters, starting January 23. The Premier Badminton League (PBL) star spoke to International Business Times, India about his last season, growing rivalry with higher-ranked Srikanth during his stay in Chennai earlier this month.
Here are excerpts from the interview
IBT INDIA: How would you rate your 2017 season?
Prannoy: Pretty good season, I would say. It was a slow start, but I think from the month of July, I really picked up. To come from 30 to 10 (world rankings) was not easy and had to play couple of really good tournaments.
To end with the Senior National Championship title made it even more better. It gave a lot of confidence. The amount of matches I played in each tournament kept increasing as the year progressed. 2017 was one of the best seasons in my career.
Wins against Lee Chong Wei and Chen Long gave a lot of confidence, especially the one against Chen. It was not really easy, it was one thing I thought I would never do.
IBT INDIA: How difficult was it to take your focus off World Championships (2017) berth?
Prannoy: It was a conscious decision from my side. I wanted to skip a couple of tournaments before the World Championships. I was really aware of what is going to open.
I wanted to take a break and work on the training aspects. It really worked for me. I needed a couple of changes, I did that during that period. I thought I can play World Championships anytime, probably from next year.
I honestly felt I was not ready for the World Championships at that point of time.
IBT INDIA: What are you plans for Commonwealth and Asian Games this year?
Prannoy: First thing is to qualify because there is a lot of competition amongst ourselves. I hope I will qualify as I am the number two [India's second-ranked] shuttler now. There is a lot of expectations from everyone when it comes to Asian Games and Commonwealth Games. We have a good team to win medals.
Training would be the key thing, especially for bigger events. Not really thinking about it now, but I think I should be good enough to play those events.
IBT INDIA: Do you think there is a rivalry growing between your friend Kidambi Srikanth and you?
Prannoy: It's pretty common because when the top two players perform well for the country, there is always a rivalry. It's pretty good for the sport because people love such rivalries. People love the Saina (Nehwal)-(PV) Sindhu rivalry. I have had couple of wins against him. It's great for badminton as the sport only grows if we have this kind of stuff.