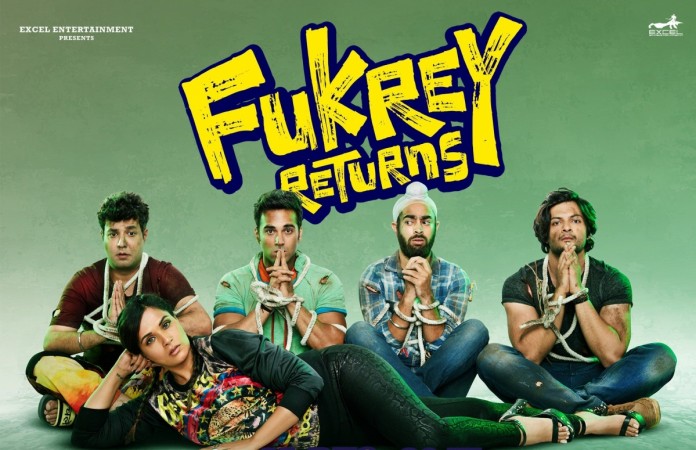 After the success of Fukrey, the team is back with Fukrey Returns, which is slated to release on December 8. The sequel to the 2013 comedy film will focus on how Richa Chadha's character of Bholi sets out to hunt the four friends – Hunny, Chucha, Zafar and Lali.
In an exclusive interview with International Business Times India, the Fukrey Returns team spoke about their expectations for the movie, some interesting incidents during the shoot, and a lot more.
We spoke to Pulkit Samrat, Varun Sharma, Ali Fazal and Manjot Singh. Here are the excerpts from the interview:
IBT: Fukrey was much loved by the audience. What are your expectations with Fukrey Returns as far as box office is concerned?
Pulkit: We are obviously hoping that it works well. Fukrey was much loved by the audience, and we are hoping the same for this one. And this time it's going to be much wilder and crazier. The fun manifolds more than the first one. So we are hoping it clicks at the window as well.
IBT: Padmavati was supposed to be released a week before, and that would have certainly affected the business of Fukrey Returns. But owing to all the controversies, the film did not release. Would you call it good luck?
Pulkit: I don't think so. I don't find anything good about what all has been happening with Padmavati. It's a sad situation. For Fukrey Returns we would have anyways got two-week run, so it was pretty clean for us. But I really wish that such things shouldn't have happened with Padmavati.
IBT: Your character of Lali was much loved by the audience. What new can the viewers expect to see in your character this time?
Manjot: The characters are still the same but the situations this time are bigger and crazier. So this time Bholi the tigress (Richa Chadha) is back. We had closed down her businesses, and now she is out to hunt us.
IBT: How was the experience working with the entire team yet again?
Manjot: After Fukrey came out, we were all requesting the makers to please come up with a second part. We were always so excited to come and work again together. And we hope people give us the same love that they gave after the release of Fukrey.
IBT: So, any chance of Fukrey part 3?
Manjot: Fukrey part 3 depends on the amount of love we receive for Fukrey Returns.
IBT: You have mostly been doing comic roles in your films. Do you want to try playing some serious characters in near future?
Varun: I have been asked a lot of times if I am not scared of getting typecast. But I feel for an actor, being regularly cast is most important, and the concept of typecast comes much later. I am very happy if I am able to make people laugh and bring a smile on their face. But as an actor, I, of course, would want to explore different genres and different kinds of roles. But comedy is something that will always be very much a part of me.
IBT: In Fukrey series your character (Chucha) is seen having a crush over Richa Chadda's character. Did you or do you have a crush on her in real life too?
Varun: Richa is a very dear friend of mine. She was in fact the first friend I made in Mumbai. As Fukrey was my first movie, Richa became my first friend in the city, and the bond has been growing stronger ever since. Yes, Chucha is madly in love with Bholi, but I never had any crush on her in real life (laughs).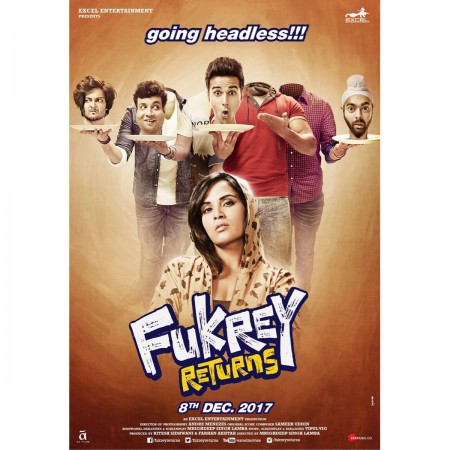 IBT: I am sure you people had a lot of fun shooting for Fukrey Returns. Would you like to share any funny incident that had happened during the shoot?
Ali: I remember a shot where we all were running towards a pool and there were many people chasing us on the roads of Delhi with full traffic. We had just one take to do that shot, and we finished it by jumping into the Yamuna. So this scene was very risky but at the same time funny.
IBT: You have been getting some good Hollywood projects too. What is the difference you between both the industries?
Ali: I think it will only change the day we start respecting our writers. The writers are in the lead in Hollywood. And the day that changes, I think the game of cinema will change here. We have many original writers who are ready with good scripts, but somehow we rely more on formula films. We had a beautiful golden era of Salim-Javed. I think we are slowly coming back on track but it will take a little time.