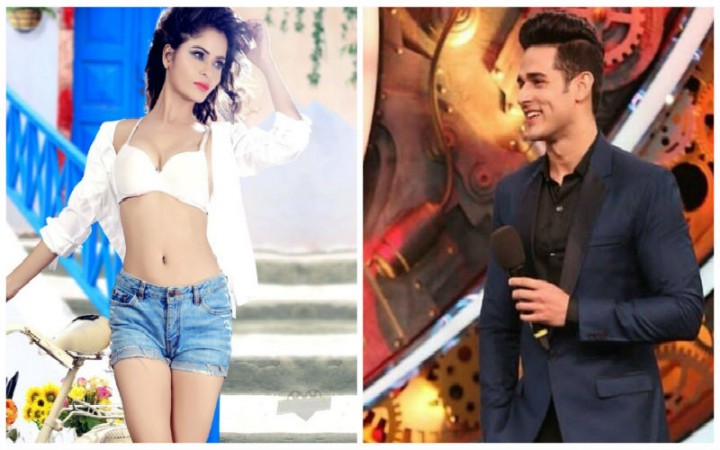 Bigg Boss 11 contestant Priyank Sharma has been in news both for his in-house fights, as well as the rumours about his multiple affairs while dating Divya Agarwal.
There was a buzz that Priyank, who is dating Divya now, is also having an affair with his ex-girlfriend Nikita Nagpal. In one of the recent episodes, co-contestants Hina Khan and Hiten Tejwani were seen teasing Priyank by Nikita's name, and the handsome hunk's words have also suggested that he is very much in touch with her, who is currently in the US.
South actress Gehana Vasisth now alleged that Priyank is already engaged, and he has been cheating Divya. Gehana exclusively told International Business Times India that the popular Bigg Boss 11 contestant who had been engaged to Nikita, is now engaged to another girl in the US.
"He was engaged to Nikita Nagpal. But now he is engaged to another girl who is also in the US. I don't want to reveal her name at this stage," Gehana told IB Times.
Priyank claims to be with Divya but these rumours of him having multiple affairs gave rise to the question of why he is allegedly cheating on her.
When asked the intention behind Priyank's alleged disloyalty, Gehana said, "Either Divya Agarwal is part of this game of lies and forgery or else, Priyank is two-timing her. This question only Divya Agarwal can answer. Or maybe, its Priyank's strategy to promote both girls with one hit." Earlier, Gehana said that Priyank would do anything for money and fame.
Even Divya has started doubting Priyank's loyalty. After watching Hina and Priyank talking about Nikita, Divya had said that she would have a lot of questions to ask Priyank after he would come out of Bigg Boss 11.
"I never believed the rumours of Vikas and his relationship. I never believed the rumours of his ex-girlfriend still dating him, because he never told me anything. But after watching Bigg Boss and listening to Hina's statement, I feel I am making a fool out of myself. I have a hundred questions when Priyank comes out. I don't know what changed. I have seen him in Splitsvilla, outside Splitsvilla but it seems that he can only make promises in private. I need answers." Divya had told IB Times earlier.