Rumours claiming Priyank Sharma and Divya Agarwal broke up were doing the rounds since Friday morning.
Priyank, who re-entered Bigg Boss 11 house on Thursday (October 26) after getting ousted in the first week itself, had earlier confessed that he was seeing his co-contestant from Splitsvilla.
When International Business Times India contacted Divya Agarwal for clarification over the issue, she said: "When we are new in a relationship, people tend to showcase it over social media. That phase of ours is over and now we have calmed down and are at a point where we don't want anyone to interfere in our lives. There is a personal life. We have other things to do as well."
She said she was busy for a show in China while Priyank was preparing for Bigg Boss re-entry.
"It is okay if we don't meet. Why to manipulate these things and make it a break-up?" she questioned. It's not necessary to display our love on the internet all the time, Divya said.
She further said that everyone knows that they are together and there is no need to prove it every day. Priyank made it clear the moment he came out of Bigg Boss house that the girl he is dating is Divya, she maintained, adding that she was tired of answering questions.
"I know few people are desperately waiting for the break-up news," she said and asked those people to hold their celebrations till they confirm it themselves.
Are you excited about Priyank's re-entry to Bigg Boss house?
I am very excited about his re-entry. It's an added advantage as he came out, saw the reality and can plan his game accordingly. Now I am sure he will be calm. We were laughing off the link-up rumours that began inside the house. People are just making news around Priyank to grab attention.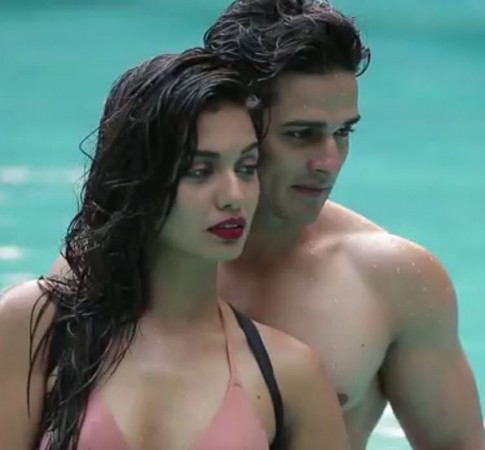 There were reports that Priyank unfollowed you on Instagram. What's your say on that?
He was just fidgeting with Instagram and mistakingly unfollowed me and a couple of his other friends after which he just dozed off. By the time he woke up, it was too late. I had no idea this happened because even I read about it on social media in the morning. When we spoke about it, he told me that it was an accident. We realised how little things become such big news.
What was your reaction when Vikas Gupta was blamed for your alleged break-up?
Vikas Gupta is nowhere in the picture. 'Bechara' he's in the house struggling to survive. He is a great friend and Priyank and Vikas are brothers. And I don't even need to clarify on that. I don't know why he is being blamed for all this.
Concluding words...
Some contestants from Splitsvilla have been trying to put us down by calling our relationship fake. Priyank and I are being targeted from every corner – Bigg Boss, Splitsvilla, and social media. Therefore, we decided to just stay calm.
'Pyaar se to pet nai bharega, kaam karna padega' (Love won't earn you bread, we need to work for that). Our lives are not just about social media because "rishte ko nazar bhi lag sakti hai" (her relationship may get affected due to evil eye). We are not seeking any attention. I request the media to not believe any sources. We are very much together and happy too.