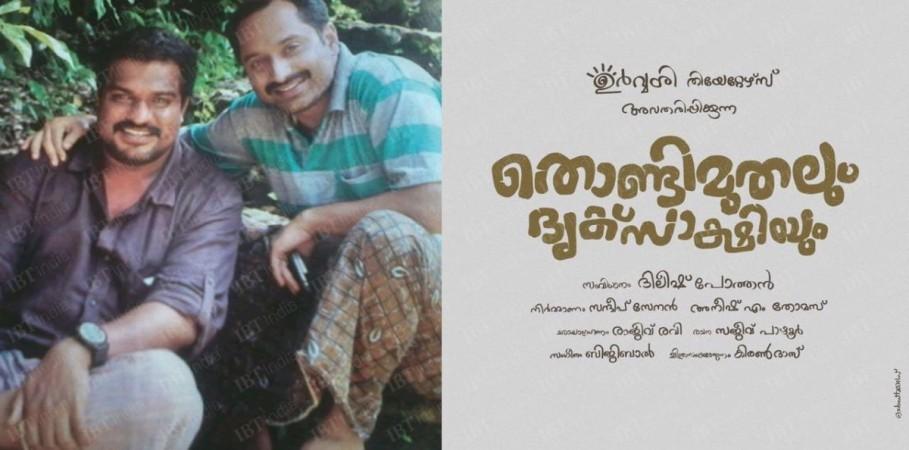 After the blockbuster "Maheshinte Prathikaram," Malayalam actor Fahadh Faasil and director Dileesh Pothan are set to join hands again for their second outing. The director has announced his second project "Thondimuthalum Driksakshiyum" while sharing the first-look poster of the upcoming film on his Facebook page on Sunday, July 25.
"Thank you everyone for all those love you shared on MAHESHINTE PRATHIKAARAM...We r all set to commence the second project "THONDIMUTHALUM DRIKSAKSHIYUM" starring Fahad Fazil along with Alancier and Soubin Shahir on lead," the director wrote on the social media page.
When International Business Times, India contacted the director seeking more details on the film, including its genre, he said: "I am not sure which genre this movie falls in, of course it has the elements of a family drama. When I heard the story of 'Maheshinte Prathikaram', I felt it interesting and made it into a film. Similarly, when I heard this story, I thought it should be made into a film. It is a small movie of a middle class family made on a small canvas. And as the title says, the film has a material evidence and an eyewitness as the main factors, it's their story related to the law and order of the society."
Commenting on the cast and release of the film, Dileesh said: "As of now, only Fahadh, Soubin Shahir and Alencier Ley are finalised. We are yet to cast other actors and are also looking new faces for many roles, including the heroine. The details on when it will go on floors will be decided after two weeks considering the dates of Fahadh. 'Thondimuthalum Driksakshiyum' is expected to hit the screens next year."
"Thondimuthalum Driksakshiyum" is being scripted by Sajeev Pazhoor and National award winner Rajeev Ravi cranks the camera for the upcoming project for which Bijibal composes the music. The movie is the production venture of Sandeep Senan and Aneesh M Thomas under the banner of Urvashi Theatres.
Here is the first-look poster of "Thondimuthalum Driksakshiyum":