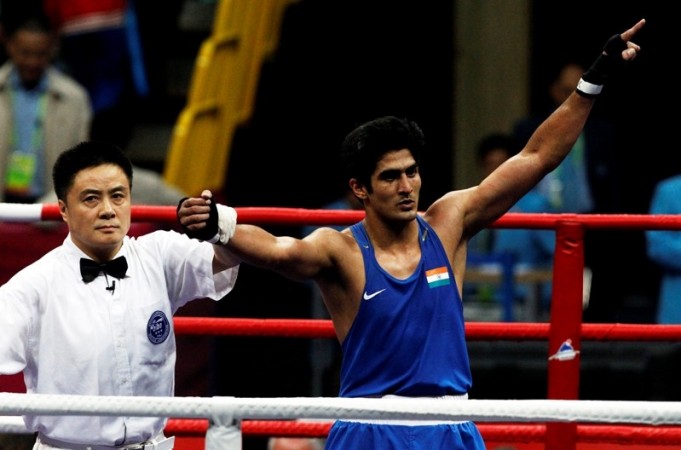 Manny Pacquiao, Tyson Fury, Amir Khan and Gennady Golovkin are some of the top professional boxers, who will add great value to the 2016 Rio Olympics. The chance of pro boxers' participation in the Olympics has opened up after AIBA (International Boxing Association) began procedures, which will allow professionals to fight in the Olympics.
However, it has not yet been made official. Boxing is one of the few Olympic sports, which still does not allow professionals to participate.
The AIBA are set to meet in June in their Extraordinary Congress to make amendments in their eligibility rules to allow pro boxers, while it would also have to be agreed by the member federations as well. If the new rules are put into place, India's pro boxer, Vijender Singh, will also be able to participate in the Rio Olympics.
Dilbag Singh, another undefeated pro boxer from India, feels such changes are encouraging signs for the future of boxing.
"It is good if such changes become official. Vijender may also get a chance to represent India in the Olympics. He can help India win a medal in Rio as well," Dilbag told International Business Times, India.
However, it is easier said than done. Vijender might be keen to represent India in the Olympics if a chance comes by, but the right process of selection has to take place. Just because Vijender is a pro, he should not have the right to be selected for the Olympics. He may very well be asked to undergo trials as well, before being selected by the federation.
To make things even more difficult, the formal decision to allow pros to fight in the Olympics is only expected to be made in June. Hence, pro boxers like Vijender, who want to participate, will only have one qualifiers in June (Azerbaijan) left to make a case for selection.
Introduction of pro boxers in Olympics, though, will be a positive sign for India, a nation, where boxers do not earn enough recognition.
One of India's best boxers, Manoj Kumar, is also excited with the prospect, and believes boxers can make more money now.
"India boxers can now think of going pro and with it earn good money and fame. They can even represent in the Olympics. At the amateur level, there is not much money, but turning pro can help a boxer financially as well," Manoj told IBTimes, India.
"However, one also has to understand the difference between pro and amateur boxing. One bout per day might prove to be a huge task for pro boxers in Olympics as they do not fight much, overall. Pros get huge time to prepare for each bout, but that is not going to happen in the Olympics."
Manoj, who also runs a training academy, believes, if the new rules come in, he can train youngsters to meet the demands of pro boxing.
India have always produced quality boxers such as Dingko Singh, Akhil Kumar, Gurchuran Singh and others. There has been no dearth of good boxers. The introduction of pro boxers in the Olympics will further encourage youngsters to pick up a boxing glove.
"More youngsters in India can think of picking up boxing if there is more money in the sport." Dilbag said.