Creed 2 is all set to be released in India on November 29. Directed by Steven Caple Jr., and written by Sylvester Stallone and Juel Taylor, the movie is a sequel to Creed (2015) and the eighth instalment in the Rocky film series. Creed 2 follows Adonis Creed training in order to defeat the son of Ivan Drago, the powerful athlete who killed his father in the ring more than 33 years prior.
In an interview with Movies NOW, Dolph Lundgren and Florian Munteanu talk about their characters in the upcoming movie Creed 2. The movie will be premiered on the same channel next year. The channel exclusively shared the interview transcripts with International Business Times, India.
Question 1: Dolph Lundgren, you were initially resistant to come back to the role of Ivan Rago, what exactly convinced you to take on the character again?
Answer: I was meeting the director, I just saw him and I didn't even talk to him. There was something about him, he was just a real, honest, young guy and then I met Florian. I still hadn't read the script and I didn't want to read the whole script because if I did it, it would have been bad but then I read the new script and it was fantastic. And I knew the great director, great script, great co-star, I just had a good feeling about him and I said I was in.
Question 2: Florian, what did it mean to take on to play this role of such an iconic character in this series?
Answer: It means a lot. First of all, it's a big opportunity and an honour to be part of the franchise and to be playing the role of a son of such an iconic role and I was growing up with the franchise and was a big fan of the franchise. "Rocky 4" was the first movie that I saw from the franchise so having now the opportunity to play the son of a true legend was simply unbelievable. But you know after you get the news that you get the role, you also be aware of that now the real work starts because there in nothing achieved yet, nothing accomplished yet so there was a lot of hard work. It was a tough process with the training and the acting we had. But it was over by the end of the day.
Question 3: So what tips did Lundgren give to you?
Answer: First of all the biggest tip was to not go all in for the fighting stuff, because it was a lot of fighting. Maybe two weeks of fighting because there was a lot of adrenalin and emotions that come along with the fighting. The problem is that the adrenaline hits in and then you kind of want to prove to all the people, all the extras on the set, on the camera that you are the man. And of course, the director who required high intensity all the time. So, I kind of gassed out but I had to find a way through it. So yes, that's what I did.
Question 4: So Lundgren can you tell us what's it like when u stepped into the ring with Sly again?
Answer: Yeah, it was weird and a bizarre feeling because it was like time stood still and yet it's been 33 years But when I saw him in his Rocky hat and his converse sneakers, it's like, no, it can't be going on. Because I never stared his down since that day because I did "Expandables", we were buddies and were on the same side, and it wasn't a dramatic movie. So now that we are friends, so I had to reach down and really give him a death stare and I could see he was like, Oh man, Dolph's really into this character and he was feeling it.
Question 5: If you both had to fight each other in your characters that is if Ivan Drago had to take on Victor Drago, who do you think would win?
Answer: Lundgren: There would be a bloodbath, it would be tough, there would be hard work
Florian: I think it would be one of the greatest matches of all times.
Lundgren: I think we both would be in the hospital for sure.
Florian: I think Ivan would take it because Ivan in this movie was a true killer
Lundgren: He would feel bad about hurting his father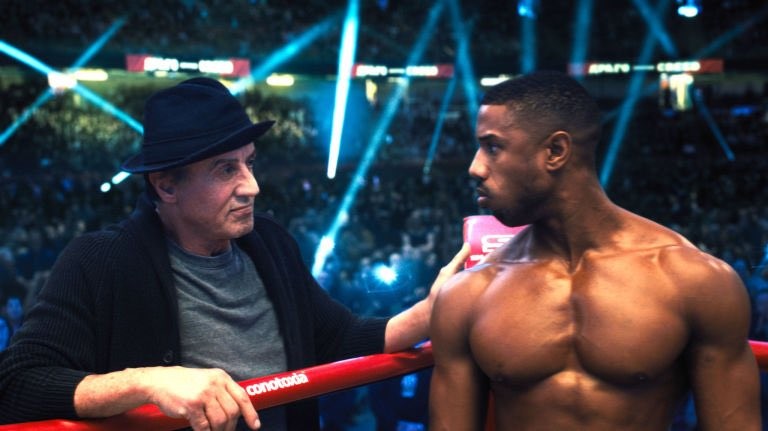 Question 6: Florian can you give a message to the fans who would be going to watch this film in India?
Answer: India, I am just going to say that you are really going to like this movie because boxing is secondary in this movie, it's a lot of family, emotions and loyalty. I think a lot of people, in general, can relate to this movie. So, don't miss this one, I promise you it's a good one.