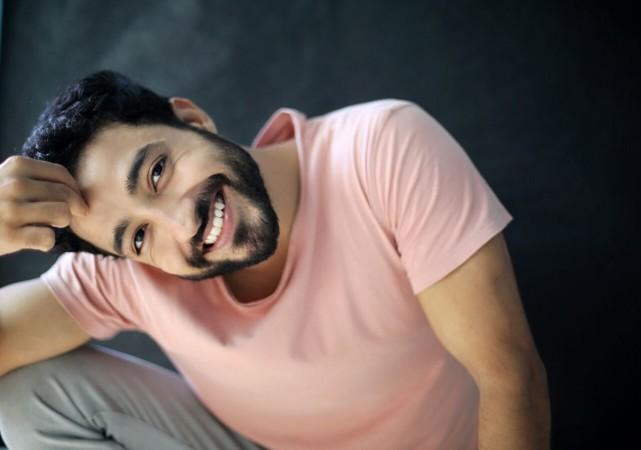 Paresh Pahuja is one lucky debutant whose dream was turned into a reality when he was finalised for the role of sniper Azaan Akbar in Tiger Zinda Hai. The newbie is currently living his dream and enjoying each and every moment of it with the grand success of the Salman Khan-starrer.
In an exclusive freewheeling conversation with International Business Times, India, Paresh Pahuja aka Azaan Akbar tells us how his life has changed completely in the last one year, getting recognised in a crowded theatre, his love for music and how he is going to take forward his acting career.
Did you ever dream that you would make your debut with a YRF sequel which will turn out to be the biggest film of 2017?
Yes, yes. I have always dreamt about it. I have been writing it in my diary for the last 10 years. I was sitting with a bunch of friends at Prithvi theatre about three-and-a-half years ago and I just very emotionally said that my dream film will be with YRF. And my friends were like 'ha ha ha' and after that the thought just stuck around with me for the longest time and I would write in my diary. And I have been a big fan of YRF and Yash Chopra and Aditya Chopra's work. I also had a wall in my house where I have hung all the posters of YRF films. So I used to wake up to that and see the logo saying to myself that that's my motive. And that's exactly what happened. I got a call from Shaano Sharma one day to test for Tiger Zinda Hai and it worked out, fortunately.
Now, you can proudly tell your friends that yes I did a YRF film.
Yeah yeah yeah! (laughs) They were the first ones to call me and they were like yeah 'you were right.' I think sometimes it's very important you know when people tell you that 'you can't' or 'that is not worth it', that drives you even more you know.
How was your experience with Salman Khan and Katrina Kaif on the sets?
Salman and Katrina were very humble. It's very important how your co-stars, directors and producers treat you because that's how you form an image of an entire industry. Despite being these giant stars they are, they made me so comfortable on the sets since day 1. And I was the only new one. The rest of them have worked on so many big projects. Like Angad Bedi, who did a fabulous job in Pink. Then Paresh Rawal sir who I have admired all my life and I have been Kumud Mishra's ever since from Rockstar. They were so supportive on sets. They will invite you for lunch, they will ask about your stories, your journey and how did you reach here and even I had a conversation with Salman and Katrina about their own journeys in Bollywood. So it became like a family. We spent three months together. So after a point, we became very very comfortable with each other.
Tell us how has your Tiger Zinda Hai journey been so far?
My life has changed completely in the last one year. From the time I got confirmed for the film and today, around this time, I was giving my second audition for the film last year. And this is what I always wanted to do. When Tiger Zinda Hai happened, I initially got into training, then big YRF films means luxurious treatment then all these stars around me, eating and sitting with them. The film changed a lot in me as a person also. Because when you are shooting for your first film, you go completely crazy and try to put in your best efforts. When I was shooting for my part of Azaan, I also started training like soldiers and to find the meaning of patriotism because my character was very patriotic. Then I started speaking with a lot of army people because for me the question was how do you feel patriotic when everything around you is so negative you know like politics and running a country - everything is a business right. So, how do you even feel like fighting for your country. Although the screen presence for those scenes was little, if I am not convinced with the idea of loving and dying for my country, how would I play that part. So, I spoke with a lot of people. They shared their own journeys and told me that they don't do this for money or recognition because there is hardly any. It's a feeling. If you don't do it then who will do it. It will be like a jungle where everyone is killing each other. Somebody has to be on the side and protect the humanity. So that changed me a lot as a person and value the freedom that you have, the things that you easily get. And when you work with the most talented actors in your team, it gives you immense confidence as an actor. So now I am like you give me any part to play and I shall deliver it to the T. If I can do this, then I will be able to tackle everything that comes my way.
Were you nervous when you shot for your first scene in the film?
Yes yes, I was very evidently nervous. My first shot was when we enter the oil refinery. Salman sir, Paresh sir and even Angad were there calming me down and say relax, we will sit down and rehearse. So Angad became like a brother and started supporting me. Then I had a very nice bond with Paresh Rawal sir and we used to speak in Gujarati. And Kumud Mishra has a sweetheart and we used to have chai together. And Salman sir made me comfortable from the very first day itself. We used to sit together and see the shots on the monitor hugging me and saying yeah that's good which made very relax after that. And he was very caring, asking you whether you are working out well, eating and everything. And nervousness I think it was just for a day only since after that we became like a family.
I am sure there might have been many memorable moments on the sets with Salman Bhai. Which one of those is the closest to your heart?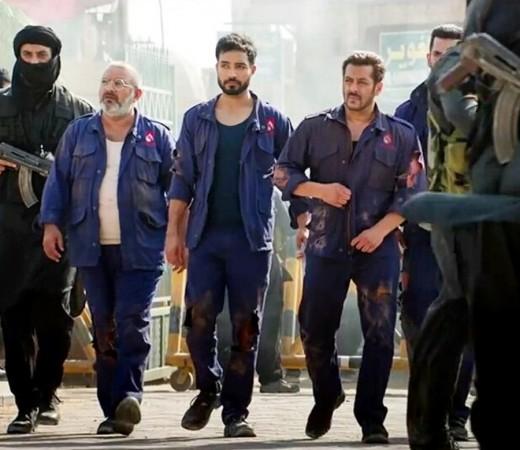 You know the good thing about Salman sir is like he is very casual in his approach. You won't even come to know how he is helping you that way. There was this one close up shot of mine and I was trying to attempt that and he was watching me from a distance sitting at the monitor. When I did that shot, Ali sir said, 'ok, one more take' and then Salman sir called me like, 'Azaan come here' and said just try this variation, emphasis on this a little and see if it works. I said ok sir and then I went back and I did that and Ali sir loved it, he was like 'yeah got it.' And after the cut, I went to him and again he gave me thumbs up saying 'yeah that's the thing I was talking about.' So he does these small things in every possible way not just as an actor but as a friend as well. So there were many such moments that happened on the sets.
How did you land your role in Tiger Zinda Hai?
I auditioned twice with Shano Sharma who called me after watching one of my ads and they never told me for which film they are suggesting me for. I just went and auditioned in the first round and again after a month, they called me. It was in the month of November last year. Then the second round happened again in December 27 something, then again on February 8 they called me and told me they have locked me for the film. And I was like which film? Then they told me that it was for Tiger Zinda Hai and this is your part, you are a sniper. And then the reality started eating me like OMG what has just happened. Although I was in love with the idea and everything, I also wanted to be little sure of what I am playing. So I was like, 'is it ok if I read the script once?' I went and I read the part and I loved it and then I said yes and then all the training and Abu Dhabi schedule started.
So can we say that Tiger Zinda Hai has brought you closer to your dream?
Yeah yeah. Not just closer to my dream but I am living my dream right now. The people who I have always seen growing up like Salman sir I got a chance to work, interact with them. Even when I came to Mumbai 5 years ago, I have a ritual. Every time there's a Salman Khan film, I go to Chandan and Gaiety Galaxy both on Friday and I watch those films. I have idolized him all my life. And I would watch those films, see the audience how they react. And you know I used to dream at that time that I will also do such films where the audience will scream and whistle and hoot for me like this. And I clearly dreamt this while I was watching Sultan that firstly it has to be YRF film and that too with Salman bhai and wouldn't that be so fun and exciting watching people screaming for you in theatres. And the same thing turned into a reality when I went to Chandan and Gaiety to watch Tiger Zinda Hai. 'Wohi Yash Raj Films ka logo' with Salman Khan introducing Paresh Pahuja appearing on the silver screen and everything. And you know during the flag scene, people started screaming after watching me and shouting and the best moment was when people recognised me after that shot. Everybody was like 'Azaan Azaan Azaan' and I was like mobbed by 500 something people around me clicking pictures in their mobile phones. So, I am living my dream yaar, completely.
So now you are not Paresh Pahuja anymore, you have got a new name, the sniper Azaan Akbar.
(Laughs) Yeah, until I play my next part. It's a beautiful feeling you know because the other day I was going in an auto and another auto just passed by with a family with four kids and one of them looked at me, took his head out of the rickshaw and screamed 'Azaan'. So that was such a beautiful feeling for me. I was like this is was earning. If a 6-7-year-old child is recognising me like this, I got so emotional when I saw that. I am very happy with how things are incredibly working out.
Was becoming an actor always in your mind?
Yeah, it was always. You know I was very inclined to all these things and music also but it became very strong when I went to college. I got a chance to perform on stage, do drama, theatre and everything. Then I realised that this is something I would love to do. But we didn't know how to do it back then. It wasn't like that you know any casting director or you can email them to ask for work. So I just got back to a normal life, do graduation, post graduation and find a job. I didn't even get admission to where I wanted to be. So then I landed up in Mumbai. I did a job in three different companies before coming to ads. So when my first ad happened, I was like 'this is it. this is the thing I want.' And I was playing a very small part, playing a guitar in one corner in an ad. But the feeling started growing in my mind and I was like 'ab to kuch bhi jo jaye, yahi karna hai.' Then I started giving auditions. I must have given almost 400 auditions by now.
You said you are interested in Music as well. If you are asked to record a single, would you be taking it up?
Yes yes why not. I would love to do that. Music is something which I am very very passionate about. In fact, I would love to sing for Vishal-Shekhar, Amit Trivedi, AR Rahman. These are the people who I have grown up listening to. You know there was one point in my life where I wanted to be a singer. Like only a singer. So I used to go to the auditions of the reality shows. I couldn't cultivate it but it has been there since then. We had a band and I used to sing and play guitar in college.
There are many aspiring actors out there who wish to make a dream debut like you in Bollywood. Tell us your mantra of success.
The mantra is to not follow the logic. Because if you become logical about things, things get difficult. When I was doing a 14K-15K salary job after my college, sitting at Prithvi theatre, living in a small house with four other guys and saying I will do a Yash Raj Film one day, logically it didn't make sense to anyone. If I would have thought logically that I am not even a star kid or have a filmy background or know people in the industry and neither do I have six-pack abs nor other those things. And I never thought all of that. S,o all you need is faith and not logic and you just need imagination that's all. If you can imagine it, things will happen to you. It's simple. And be positive no matter what because it's so easy to find negative people around you. Like casting couch sort of things must be happening here, you might want to pay a huge amount of money to get some work and all but believe me nothing of these things happen in today's time as everything has become so transparent.
Who are your dream directors?
My dream directors would be definitely Aditya Chopra first of all. Another director who I believe to be god and worship is Rajkumar Hirani. These two I would really want to work with. Then there is Aanand L Rai, Imtiaz Ali, Zoya Akhtar and Vikramaditya Motwane as well.
What kind of roles are you looking forward to?
I am looking for roles that really excite me. Anything or any film that gives me a new journey. I have to experience the emotions, professionalism and I have to be a person who I have never had been in the past. Like Azaan, I won't be able to join the army or fire a gun or train like soldiers or even die for the country or feel the emotions in real life. But as an actor, I literally lived that in every possible way and now I can do all these things. So whatever next journey comes up has to be equally exciting. It could be anything. I could be a lover, a son, an astronaut anything, but the journey has to be exciting since the beginning of the film till the very end and lead roles of course.
Since Tiger Zinda Hai has given you big launch pad, how are you planning to take your acting career henceforth?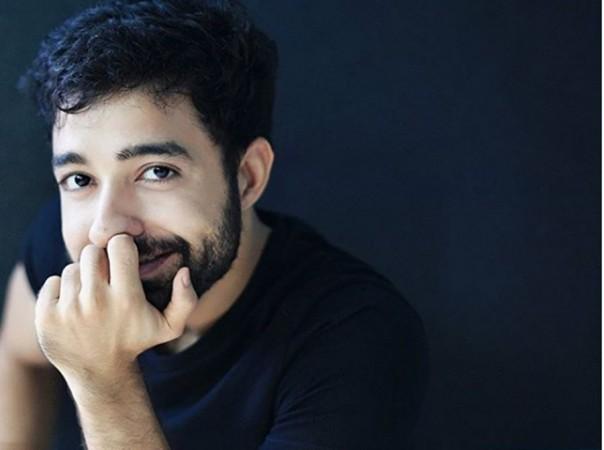 You know the good thing that has happened in fact that because of this film is that I have been able to reach to big directors without me visiting offices with a portfolio in my hands. Like, yesterday I was watching the film again with my friends and Aanand L Rai and Himanshu Sharma were sitting there at PVR. I didn't go and say hi to them because I just wanted them to watch the film and find me in the scenes. He was sitting just behind me while I was sitting in the next row. And I was just trying to catch a glimpse of him watching his reactions to my scenes in the film. So, I have reached out to these people already. Right now, I am just waiting for the right opportunity to come to me because people have already started calling and offering things to me. But I am going to pick something from my dream directors list only because that's what important to me.
Last word, what would be your reaction if you win the Best Debutant Actors award at the upcoming Filmfare awards?
Oh yes. That's another dream that I have been writing in my diary and you know what my Filmfare Best debutant speech is ready for the last three years. I have written and I have practised it on every day of my life. I really wish that happen since people have nominated me for the award. Everything has happened according to my dream and desires and if this happens, it would be like another dream come true for me.