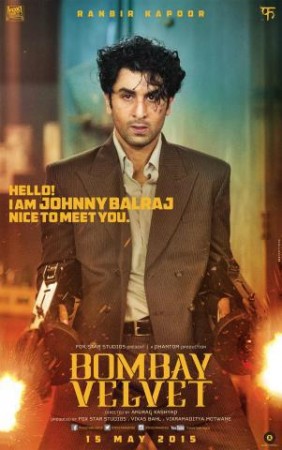 Ranbir Kapoor takes on the lead role in Bombay Velvet, Anurag Kashyap's lavish love story set in fifties Bombay. Its a twisted tale highlighting the trials his character Johnny Balraj must endure and the Machiavellian characters who impede him in his desperate bid to make it big in the city of dreams. In an interview with IBTimes, Kapoor describes what it was like to experience life in the fifties, what he really thinks of the big bad world of Bollywood and he takes a moment to wax lyrical about his real life love Katrina Kaif.
You described Bombay Velvet previously as Deewar meets Scarface meets Titanic. What is the central theme of the story?
"Bombay Velvet is a love story set in the sixties. It's based on these two gangsters, Johnny Balraj and Rosie trying to make it in the big bad world of Bombay and how we get caught in the world of corruption and manipulation and how that destroys them. But I think the love story and the chemistry and the dynamic between Johnny and Rosie in the love story is what really appealed to me in the script of Bombay Velvet. It's just about these two people who don't really care about anything in life except to make it big. The way it was set and the way it was written, the characters were very endearing and they have a very vulnerable quality to them which made them interesting to portray."
What did you do to research the era and what did you learn about life in the fifties?
"Johnny's a street fighter. In 1960's Bombay people used to go to these fighting dens just to get out their frustrations, beat up people, that's just something that he does to relieve his sadness. I did some training for three months to get into the mindset of the character. But actually Anurag, the camera team and the technicians had done so much research that by the time we came on set we just got transported to that time. The streets, the properties, the club scene everything was so intricately designed that it made it very easy for us to be transported to that time. I think what I really liked about that time in the 50s was that everybody was really living in the moment. No one was distracted by their cell phones, there was no internet. Everything was based on trust and real relationships It was not something that was selfish. So that part of the fifties that is shown in the movies is what I really enjoyed. "
You have great chemistry with Anushka Sharma in the film. How did you build such strong rapport with her for the film and does it help when you are already friends?
"Yes I've known Anushka as a friend long before we came on set. We all know how talented she is and she brings so much to the table as far as her character is concerned and she stands by the movie. As far as chemistry is concerned I think its written in the script, its written in the characters. We don't share a sexual chemistry on screen its more like a vulnerable childlike chemistry that they share. But they are crazily in love with each other. They can't do without each other. But they also want to make it in the big bad world of Bombay City. It was a challenge but Anushka is a great talent and every co star that she works with really enjoys working with her. She's not judgemental. She's really a nice person and that makes a difference onscreen.
You describe Bombay of the fifties as a big bad world. How does it compare with the Mumbai of today?
"Today it's a badder world than back then. I believe people were better and we've tried to show that people were better. Everybody comes to Bombay to make it big that's why we call it the city of dreams and it's the same with Johnny and Rosie . They come from small villages and even though it's a city that provides you with so much they have to resort to snatching what they can get and that's when the games and manipulations start."
What was it like to work with Anurag Kashyap in a love story, when he is known for his gritty independent cinema?
"Anurag Kashyap because of the kind of films he has made people have this misconception about him that he is dark but he is a real softy at heart. He loves the movies. He's grown up watching Hindi films and he wants to make films for a larger audience that are entertaining. And as actors coming on set he would encourage us to contribute . He creatively satisfies you wholeheartedly during the process of his movies and I would gladly work with him again in the future."
Karan Johar stars as a villain in the film. What can you tell us about his acting debut?
"To be honest when I heard that Karan Johar was going to be cast as the antagonist of the movie I was shocked because we all know Karan Johar's personality he's so fun loving and loud that you don't imagine he could play that kind of character but Karan Johar again is so talented that when he came on the sets of Bombay velvet as an actor and he came with the intention of doing the part he went for it completely. He is a villain of the mind using psychological manipulation to trap people and Karan really got that part of the character. Of course it was really funny initially on set because I know Karan on a personal front and to see him mouth this dialogue and tell you these things we would just make fun of each other. But after a couple of days we were all transported into the world of Anurag Kashyap and Bombay Velvet that we just started being the parts."
As an actor who has worked hard to find fame in the film industry, and even though you have a film lineage do you relate at all to Johnny and his yearning to make it big?
"Because I grew up in a film family I do know the pros and cons of the big bad world of this industry. Of course fame is important because everybody wants be a big shot in their life. Thankfully I was never chasing money or fame I was just chasing good work because I was from a family of so many good established actors that it was important to me that I made a name for myself . People should know me for my work not that I am so and so's son or grandson. I do relate to Johnny's character that way but I want to do it on my terms and on the film's that I want to do. I'm not trying to follow somebody else's path or to imitate someone I just want to do it myself. And to express myself so that the work should be so good."
There was a lot of debate surrounding a tattoo you appeared to have on your wrist. Is that anything to do with the film?
"That was just a doodle while sitting at home so its not a tattoo just an ink mark. I have no pain threshold, so no tattoos."
Despite your fame and the focus on your private life you've managed to keep some aspects of yourself a mystery. What are your favourite things to do when you're not working?
"I pretty much work all he time and when I'm not I just like to do nothing, I'm a big football fan so I try to play football as much as I can. I love travelling, I love eating food, and whatever time I get, I run. I go back to the office and I study there. Days when I'm not on the set are very rare because I'm constantly working but when I'm not I do absolutely nothing and the day just goes by."
You have a whole slate of films in the pipeline. What can you tell us about your next projects?
"After Bombay Velvet I have Tamasha coming out with Deepika that should come out sometime by the end of the year. Then I have Jagga Jassoos the film I'm collaborating on with Anurag Basu after Barfi! That's with Katrina. I'm playing an 18-year-old detective who stammers. Then I have Karan Johar's directorial venture which I am extremely excited about which is an urban love story which I'm going to be shooting in London. It's a thriller. Then I have Ayan's movies, which is a mythological film based in contemporary times that he wants to spend ten years of his life working on because he wants to make trilogy . It's his own Lord of the Rings meets Matrix kind of film and it's a very exciting character and very exciting project."
How do you mange to work in a movie with an ex and what is your equation with Deepika today?
"I think Deepika has really stepped up her game as an actor. She is so fascinating to work with. Every time I work with her and I come on set I am surprised how she can continue to surprise you as an actor even when you know her so well. She is really pushing the boundaries of her talent of the kind of choices that she makes and I'm really excited to collaborate with her on good movies. You know I'm working with very exciting actors Deepika, Katrina, Alia, Anushka, Aishwarya Rai and some very exciting directors."
Of course Katrina Kaif was honoured recently with the installation of her waxwork figure at Madame Tussauds and now she's making her debut at Cannes. Have you seen the waxwork and what do you feel about the recognition she is receiving on an international platform?
"I haven't been but I'm going to be in London so I'm going to see it. I'm extremely proud of her and I don't think anyone deserves it more than her. For her, its such a great achievement having lived in London for so long and for all her family to see that. I've been to Madame Tussauds so many times and I've clicked pictures with so many of my icons, so I m really proud of her that she has achieved that and there is no one more deserving."
A fake Twitter account was recently attributed to you. Do you have any plans to join the social media platforms?
"I am a little shy of the social networking sites. I'd rather keep some mystery about myself and maintain some anonymity. We don't seem to have freedom of speech in India and there are so many interpretations of what you say so I don't want another platform for clarifications of what I say. I'm just happy doing my movies."