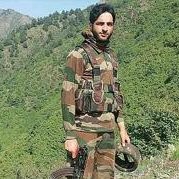 The Jammu and Kashmir government on Tuesday cleared ex-gratia to the next of kin of Hizbul Mujahideen militant Burhan Muzaffar Wani's brother and 16 others killed in militancy-related incidents in the Valley. It has given a week's time to file any objections that there may be before issuing the formal orders.
Khalid Muzaffar Wani, Burhan Muzaffar Wani's brother who was pursuing Masters Degree in Political Science from Indira Gandhi National Open University, was killed in firing by security forces in Pulwama district in April 2015, according to local media reports. The army had said that Khalid was an over-ground worker of Hizbul Mujahideen and was killed in an encounter but locals claimed that he had no links with militancy, the Indian Express reported.
Burhan was also killed in firing by security forces in an encounter in Anantnag district in July 2016, triggering violence and unrest in the Valley for over three months. It led to the death of nearly 90 people.
The Deputy Commissioner of Pulwama, Muneer-ul-Islam, issued a notification on Monday stating that ex-gratia relief of Rs 4 lakh under relevant rules was cleared by the District Level Screening-cum-Consultative Committee (DLSCC) in favour of the next of kin of those who died in militancy-related incidents. The DLSCC meeting had taken place under the chairmanship of Muneer-ul-Islam on November 24.
The list of 17 people also included the name of contractual lecturer Shabir Ahmad Mangoo, who was allegedly beaten to death by the army in Pulawama district's Khrew area on August 17, 2016. According to locals, the army carried out raids in several houses to look for youths who were involved in violent protests in Khrew much to the displeasure and inconvenience of the locals.
The clashes that followed resulted in Mangoo's death following which an inquiry was ordered by the Indian Army saying that such incidents would not be tolerated.
"These raids were not sanctioned in the first place. It is unjustified. Nobody can support it and it will not be tolerated," Lieutenant General DS Hooda, then General Officer Commanding-in-Chief of Indian Army's Northern Command, had said.