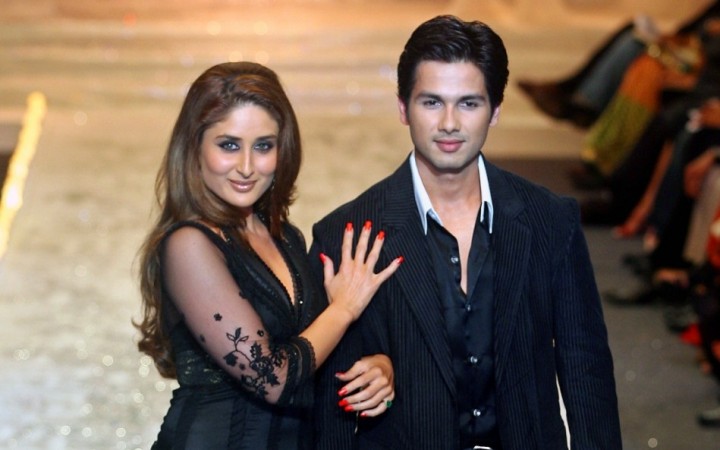 Ex-flames Shahid Kapoor and Kareena Kapoor may have buried their past relationship but it looks like their awkwardness after the break-up is still refusing to die down. The estranged lovebirds had a narrow escape when they almost bumped into each other on the red carpet at a recent award show on Friday (December 1).
It so happened that when Shahid went on the red carpet, he posed for some pictures with Varun Dhawan and Prateik Babbar and later got engaged with them in a conversation. Before Shahid could leave the red carpet, Kareena made a sudden entrance and posed for a few pictures.
When Kareena went on to give a byte to the media, the actress' publicist realised that Shahid was already there to speak with mediapersons.
According to a report in Deccan Chronicle, Kareena's PR team quickly got her to moved out from the spot and apologised to the media. Shahid, who was already on the red carpet, patiently waited till Kareena left, and then quietly walked up to the press to give his bytes.
Shahid and Kareena, who ended their four-year relationship midway through the shooting of Jab We Met (2007), were teamed up together in Abhishek Chaubey's Udta Punjab in 2016. However, the two didn't share any scene together in the film. They even avoided standing close to each other during the film's promotions.
Tarun Raj Arora, who played the role of Anshuman in Jab We Met, recently opened about his experience of shooting for the film with Shahid and Kareena after their break-up.
"The tough time in their relationship did not affect the shooting, but I could see that things were a bit weird. When you have a couple on set, you expect them to be a little lovey-dovey and happy. There was an air of discomfort. However, I thought that they are serious actors and didn't let their personal equation affect their work. They did not even joke with each other," Tarun told Hindustan Times.