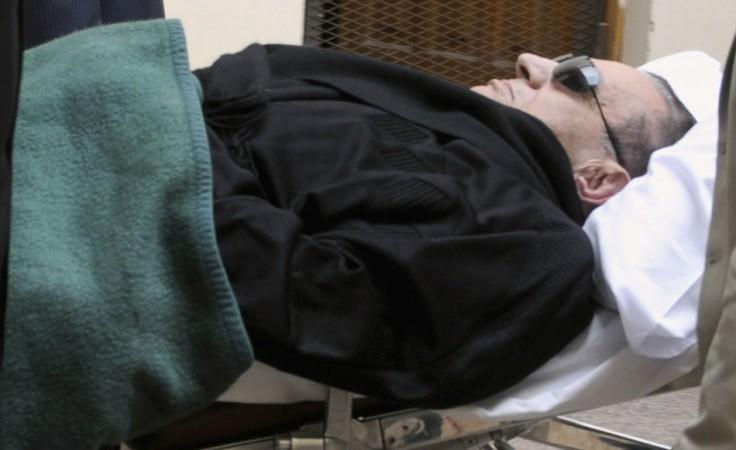 Egyptian military officials on Wednesday denied some reports claiming that ex-President Hosni Mubarak is "clinically dead" adding that Mubarak is still in a critical condition and on life support.
The former head of the state suffered a stroke in Tora prison, where he was serving his life term, and was transferred to Maadi military hospital in Cairo late on Tuesday. Mubarak, 84, is said to have slipped into a coma and is reportedly on life support, according to security sources.
Earlier, Egypt's official news agency MENA reported that Mubarak was "clinically dead" quoting medical sources after his heart stopped beating and could not be revived.
However, several military and security services, who have been ruling the nation following an uprising that witnessed Mubarak's ouster, have stated that Mubarak has been kept alive and reports saying that he was "clinically dead" were premature.
General Said Abbas, a member of the ruling military council, told Reuters that Mubarak had suffered a stroke but added: "Any talk of him being clinically dead is nonsense."
Mubarak's wife Suzanne has reportedly arrived in the hospital, but Mubarak's sons Alaa and Gamal who are currently in Tora prison in connection with charges of corruption related to stock markets were refused to accompany their father when he was transferred to Maadi hospital. Both the sons have been shifted from Tora prison hospital to another prison facility, according to a report on Al-Ahram's Arabic language news website.
On June 2 this year, Mubarak was sentenced to life imprisonment after the judge found him guilty of his involvement in the killing of several protesters during the uprising last year that shook the whole country and ousted Mubarak from his presidential post bringing an end to his 30-year brutal rule.
Meanwhile, the news about Mubarak's health condition has come at a time when more than 14,000 protesters have gathered at Tahrir Square to protest against the military council's bid to assume new powers. Last week, the military council declared that it is claiming legislative power following constitutional court's order to dissolve the Parliament.
Moreover, the Egyptians have been waiting to hear who had won the presidential election that was held for the first time post Mubarak's ouster last year. The first round of election took place in May and was followed by the second and final run-offs on June 17. The results are likely to be announced on Thursday (June 21).
Muslim Brotherhood candidate Mohammed Mursi and former Egyptian Prime Minister Ahmed Shafiq, who were up against each other, have both claimed victory in the election. The ruling military body will hand over the power to the new president on June 30. Since the military's declaration gives them veto power, there is fear mounting that the military body will interfere and prevent the incoming President from exercising his powers.