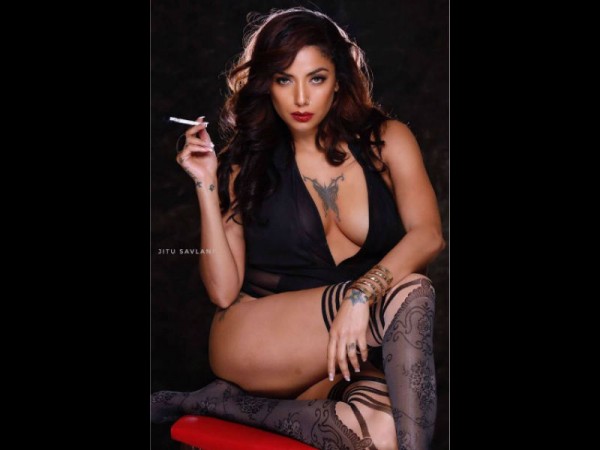 Model and former Bigg Boss contestant Diandra Soares shared a picture on Instagram with a strong message for her haters. While Diandra looks super hot in the picture, she showed her badass self saying "F*ck You" to her haters, who apparently lectured her on morality.
Diandra shared a photo from a photoshoot, showing her sizzling side. Holding a lighted cigarette and flaunting her curves, the model looked both sensuous as well as bold. However, the caption grabs much attention as well.
"You're a girl. you should not abuse! FUCK YOU," she captioned the photo. Diandra had shared another sexy picture from her photoshoot a few days back, and had accompanied that with even bold caption.
"To all the very well educated so called male 'friends' who after my 12 year relationship ended..who showed me their love, concern, advice, pearls of wisdom and said, 'Look Di, your ex boyfriend is 11 years older to you but he is still a man, and will always be a rockstar DJ etc. And have younger women fall over him...But you Di, are 34 years old, you must find a nice rich well to do man now...and 'settle down' have a few babies..It is time. How far will you go anyway in this career now at this age!!!" she had captioned the sizzling picture.
"To you lovely men I would like to say 'Fuck You' you seem to have 'settled down' so nicely with your wife n kids n yet are here commenting about my tits n ass. Thank you for your worldly advice..and thank God I had half a brain to move away from you extremely well educated settled down friends...I am still here...and still a goddamn 'Rockstar' coz being one has nothing to do with age or male/female...either you just are or like you out there...Di trying," she added.
It appears that Diandra had received some moral lectures from her Instagram followers for using such language in the caption, and now the model has come up with a response for them in similar fashion. Diandra had appeared in Bigg Boss 8 and was also a part of Khatron Ke Khiladi in 2011. She had a cameo in Kangana Ranaut-starrer Fashion as well. Check Diandra's smoking hot photos that she shared recently.