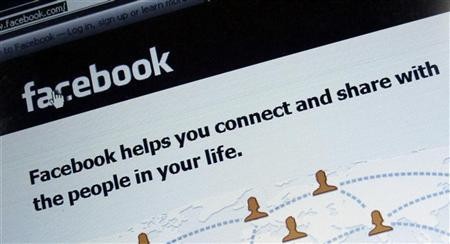 Facebook is reportedly expected to launch its own smartphone by 2013 in order to increase its revenue by catapulting on the mobile network market.
It has become a question of survival, literally, for the popular social networking site, despite its whopping over 900 million active users worldwide.
One of the prime reasons is its struggle to make money from the growing mobile audience. The advent of smartphone has let the people to access the cyberspace through their hand phones, which is most preferred in today's time, including among Facebook users.
Facebook's revenue comes from the advertisements on its page, but the photo-sharing social website runs limited ads on its mobile page. The increase in mobile audience has thus affected Facebook's revenue from ads.
Adding to its woes, the Facebook's much-augmented stock market debut turned out to be a big fizzle, as it didn't live up to the expectations before it was launched, which ended the first full week of trade with a loss of 16 percent from its offering price of $38.
However, the popular social site is reportedly bracing up to foray into smartphone business and building up a tech-team to develop smartphones.
The reports suggested that Mark Zuckerberg's six-year-old networking website has already hired over half-a-dozen former Apple employees to make its own smartphone, which would counter the persisting challenges against the company's growth. It is also said that the online major would release its smartphone by next year.
Back in 2010, a tech-based website reported that the Facebook officials had plans to bring their own smartphones . However, they stopped working on this project owing to the complications involved into it.
Facebook is already running its own app centre on its website, which is touted as a prelude to its reported smartphone launch, where users can buy games and other applications on the social networking site.
The Facebook also provides a platform for the software developers to sell their products on its social site, from which it will eventually claim 30 percent of the total sale. The app store will feature applications for web browsers, including iPhone, Android smartphones, PC tablets as well.
However, currently the app store offers only links to Facebook-enabled apps within Apple's iOS and Google Android stores.
Facebook supposedly sees its smartphone project as the best way forward to keep itself afloat in the online business, at a time when it's facing a serious competition in running advertisements, mainly from search-engine giant Google.
Google recently acquired hardware maker Motorola Mobility for $12.5 billion, which may lead the search engine giant to make its own smartphone.
Facebook employees are seemingly very serious about transforming their software company into a hardware maker, in the near future.
"Mark [Zuckerberg] is worried that if he doesn't create a mobile phone in the near future, then Facebook will simply become an app on other mobile platforms," The New York Times quoted a Facebook employee as saying.