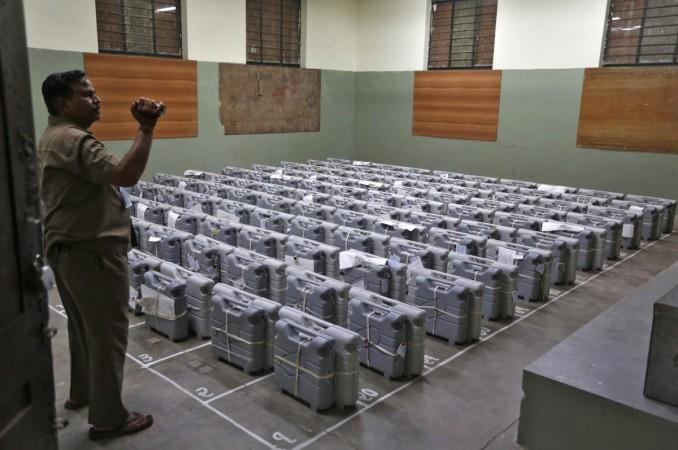 The Aam Aadmi Party (AAP) on Tuesday moved the Delhi High Court seeking direction to the Election Commission (EC) to allow the usage of voter-verifiable paper audit trail (VVPAT) machines attached to the Electronic Voting Machines (EVMs) in the MCD polls scheduled to be held in Delhi on April 23, 2017.
Arvind Kejriwal-led AAP and the Congress Party have consistently been demanding that the poll panel conduct the elections using ballot papers instead of EVMs to rule out the possibility of the machines being tampered with. The EC, however, had made it clear that EVMs would be used in the MCD elections following which AAP has demanded that VVPAT machines be used.
The petition, which is up for urgent hearing and has been filed by Mohd Tahir Hussain and AAP, was mentioned before a bench of acting Chief Justice Gita Mittal and Justice Anu Malhotra who agreed to hear it today itself, the Press Trust of India (PTI) reported. Hussain is contesting as a councillor in the upcoming polls.
Senior advocate Indira Jaising, who mentioned the petition before the bench, has urged the Delhi HC to list the matter to be heard on Tuesday in view of the alleged incidents of tampering and manipulation of EVMs that have taken place in several states recently.
The petitioner sought to know the reason behind the Delhi state election commission asking for generation one EVMs, which have the least amount of security features, to be used in the MCD elections in the national capital. The party has strongly objected to the use of EVMs sourced from Rajasthan for the Delhi civic polls.
Delhi Chief Minister Arvind Kejriwal had recently demanded that the allegedly tampered EVMs sourced from Rajasthan for the polls be withdrawn and only VVPAT-equipped voting machines be used in the MCD elections. VVPAT provides feedback to voters using a ballot less voting system.
Kejriwal had also accused the EC of not accepting that the EVMs could be faulty and be tampered with. The EC had responded saying that it was impossible to tamper EVMs. Delhi Congress President Ajay Maken had also written to Kejriwal and the Delhi state election commission requesting them to use paper ballots instead of EVMs.
The issue of EVM tampering was first raised by Bahujan Samaj Party (BSP) chief Mayawati, who alleged that the BJP won in the Uttar Pradesh Assembly polls because the machines had been tampered with, which eventually resulted in votes being cast for the saffron party irrespective of the button pressed.