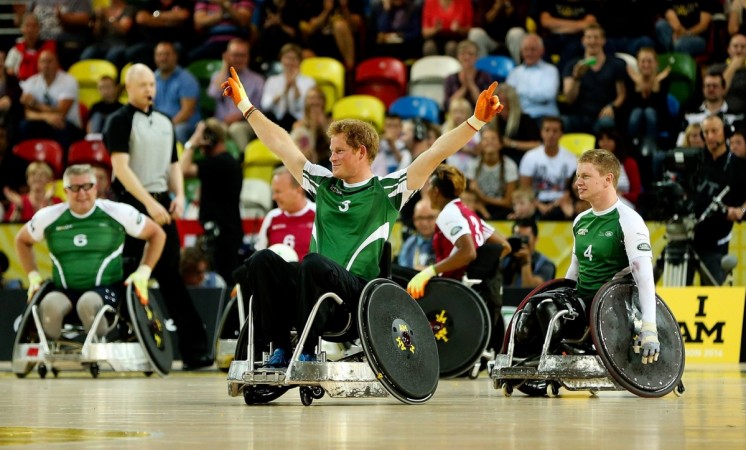 Brought to the UK by Prince Harry, the Invictus Games is a US Style warrior sporting tournament for injured and sick servicemen and women.
Prince Harry launched the Invictus Games with a moving military-themed ceremony to celebrate the sacrifices made by the injured servicemen and women around the world on 10 September.
The 29 year old royal had made a touching speech at the Queen Elizabeth Olympic Park amid 6,500 spectators about how the athletes' journey to recovery humbled him.
"I can't even begin to imagine how challenging the journey to recovery is. Their stories are as amazing as they are unique. You can be sure that everyone who makes part will be giving it their all and there is no doubt lives will be changed this weekend," he said.
Chris Martin of Coldplay, had penned the anthem "I AM", which was performed by a choir at the Invictus Games Opening Ceremony.
An initiative of The Royal Foundation of The Duke and Duchess of Cambridge and Prince Harry, in partnership with the Ministry of Defence, the Invictus Games was brought after Prince Harry visited to the US Warrior Games in 2013.
The idea for the Invictus, which comes from the Latin word for 'unconquered', first entered his thoughts in 2008, when he was serving with the British military in Helmond Province, Afghanistan, on a plane returning to the UK with three fellow servicemen in induced comas. He sees it as an important part of the broader legacy of support, through a combination of on-going care, training and employment opportunities, to the well-being of those men and women who have served their country and help them adapt to the civilian life.
The teams come together after the medal ceremony to the sound of cheers - #InvictusGames pic.twitter.com/a1wercdA36

— Invictus Games 2014 (@InvictusLondon) September 13, 2014
The four-day event is designed to introduce injured service members and veterans to Paralympic sports competition and encourage them to stay physically active when they return to their local communities following the event.
Many popular celebrities have come out in support of the games, including Will.i.am, James Blunt, Tom Hardy, Joss Stone, Tinie Tempah, Bear Grylls, Joanna Lumley and Lizzy Yarnold.
Daniel Craig has also requested everyone to give back to the armed forced community via a YouTube message. Check the video below:
More than 400 competitors from 13 nations- Afghanistan, Australia, Canada, Denmark, Estonia, France, Georgia, Germany, Italy, The Netherlands, New Zealand, the UK and the USA- who have all served or are still serving their country in the Armed Forces, came together to compete in the nine adaptive sports, including athletics (11 September), wheelchair rugby (12 September), archery (12 September), wheelchair basket ball (13 September), indoor rowing (13 September), road cycling (13 September), sitting volleyball (14 September), power lifting (14 September) and swimming (14 September).
The results to all the competitions can be found here.
Watch the video below to hear from one of the competitors who was gearing up for the Invictus Games: